Deron Williams is reportedly interested in signing an extension with the New Jersey Nets this summer. Posted by Ben Golliver.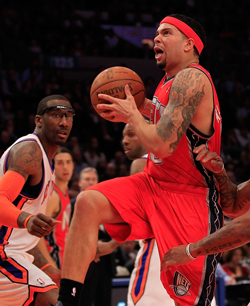 Without a doubt, the most shocking move at this year's trade deadline was the out of nowhere trade that saw the Utah
Jazz
send franchise point guard Deron Williams to the New Jersey Nets.
Once the dust settled, Williams realized he was now the floor general for one of the league's worst teams, a franchise with a new owner, a new coach and dreams of moving to Brooklyn, but little else.
The fact is that unless Williams, a free agent to be next summer, commits to the Nets, he could be in for a frustrating season next year. No free agents will want to join the Nets unless they know Williams will be there and New Jersey's front office will be paralyzed if they can't be sure they will have Williams to build around.
The New York Post reports
that it sounds like Williams is open to committing to the team this summer.
"I like the organization a lot,'' said Williams, who will be a free agent after next season, assuming a lockout doesn't cancel the NBA's 2011-12 campaign. "I like the direction it's going. I could definitely see myself staying here.''
Williams, who will be moving his family to New Jersey, said he's open to signing a contract extension this offseason.
"I would like to not have the distraction (of looming free agency) during the season,'' he said.
Those are potentially franchise-altering words for the Nets, who desperately need to retain Williams given the expensive price they paid --
Devin Harris
,
Derrick Favors
and picks -- to obtain him. Williams is good enough to have the Nets in contention for the playoffs next season, by himself, and that, plus the move to Brooklyn, could go a long way to helping the Nets achieve their goal of becoming a top destination for free agent talent.