The Memphis Grizzlies have reportedly agreed to a four-year contract extension with power forward Zach Randolph. Posted by Ben Golliver.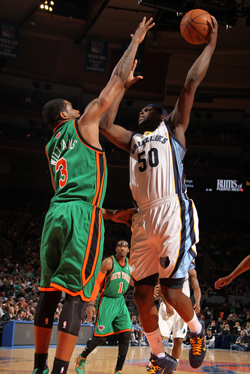 Fresh off their first playoff victory in franchise history, the Memphis Grizzlies have reportedly locked up power forward Zach Randolph to a long-term contract extension.
ESPN.com reports
that the Grizzlies and their leading scorer have "agree[d] to 4-year, $71 million contract extension, according to league sources... $66 million fully guaranteed, plus $1.3 million in incentives each year." The site
also reported
that the final year of the deal is a player option.
A deal had been rumored to be close for nearly a month, as word that the two sides were close
first circled in March
and then
again in early April
.
Memphis's core is now virtually complete. They've locked up wing
Rudy Gay
, starting point guard
Mike Conley
and now Randolph to extensions. The final piece is expected to be center
Marc Gasol
, who is a restricted free agent this summer.
Randolph has long been a boxscore stuffer and this season was no exception. He averaged 20.1 points and 12.2 rebounds, the third straight year he's averaged more than 20 points per game and the fifth straight year he's averaged double figures in rebounds.
This contract doesn't come without concerns. Randolph is 29 years old, meaning he will be 33 when the deal completes. While he doesn't rely on overwhelming athleticism to generate his numbers, there's no question his production will tail off during that time period. An average salary of nearly $18 million usually would be reserved for a franchise player. Randolph is likely worth that figure to the Grizzlies next year, but will he be in year four?
Avoiding a fifth year is really the only strength of this deal from Memphis' perspective. At some point, though, it becomes "pay to play" time. Not retaining Randolph would have killed the positive momentum created during this year's playoff run and set the Grizzlies back on a semi-rebuilding course, looking for a dominant low-post player without the luxury of a lottery pick to try to find one. In this case, over-paying is probably better than rebuilding and there's also a decent chance that at least some of next year's salary won't be paid due to a lockout, plus an outside chance that there will be salary rollbacks that could affect the total number Randolph will end up receiving over the entirety of the deal. (It's worth noting that a new Collective Bargaining Agreement plus Randolph's age at the end of the deal makes it very unlikely that he will exercise his player option.)
Nevertheless, this is a huge win for Randolph, who got his final, big NBA payday before a potential lockout. He gets not only a fat salary but also the peace of mind that goes with continuity in knowing where he will play for the foreseeable future. That's something that he hasns't had playing for four teams in the last five seasons.