Reactions from around the web to the
Celtics
' Game 1 win over the
Knicks
...
Posted by Matt Moore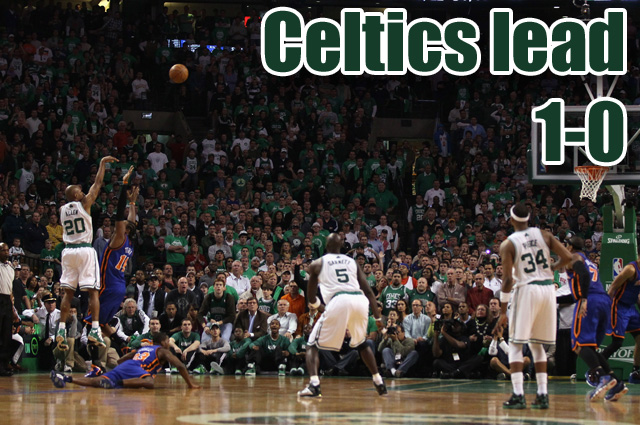 Last night started off like the regular season ended but ended like it started. It is almost as if the bad habits developed over the last several weeks carried over. But sure enough, when they needed it most, the switch came on and the team rallied and won.

Credit Jermaine ONeal for creating transition offense with his defense. Credit Ray Allen for being patient enough to let the game come to him and knowing just what to do when it did. Credit Doc Rivers for drawing up exactly the right out-of-bounds plays in the final moments. And credit the whole team for not giving up on game 1 and showing just what kind of team they can be.

Now they just have to leave that switch locked into the on position for the rest of the playoffs and well do just fine.
via
The Switch Flickered - CelticsBlog
.
If this were a 4-5 matchup, it would be one thing. Or a second-round matchup. But I'm a little surprised that so many Celtics fans are so "well, there they go again, flipping the switch" in this one. I
loathe
the "one team lost it more than the other team won it" angle in most circumstances.
Spurs
fans are saying a lot of that Monday morning without taking notice of the fact that
Marc Gasol
did earn all 24 of his points. But here? The Knicks didn't have
a
shot to win this thing. They had about nineteen. Their failure to execute wasn't based off of personnel, it was based off of decision making and shooting. Which, yes, you can credit the Celtics' defense for, as always. It just seems like in a series where the Celtics should overwhelm their opponent to such a considerable degree, there would be more uneasiness regarding "the switch." But then again, it was Game 1. The Celtics were in a tight series with Miami in the beginning and then a series of dramatic events last year lit a fire under them. Perhaps the same thing is happening here.
It has to make you wonder why they can't figure out a way to get him the ball more. He's only shooting career highs in field goal percentage and three-point field goal percentage this season. Ho-hum.

Allen could hang his head and pout about the lack of shot attempts, but instead he just continues to play his game, take what's given, and look for the best option.

"I wasn't worried about it (not getting shots early)," Allen said. "Offensively we got so many great weapons out there on the floor. Here in the playoffs I knew what my matchup was and defensively I knew what I had to do to help keep Carmelo (Anthony) from having big nights and (Amar'e) Stoudemire. Offensively when we got stops early I got a couple of layups, a couple of shots at the hoop. For the most part I wasn't worried about shooting the ball. Once we settled in and played the type of basketball that we are capable of playing, I knew I'd find our comfort zones.
via
Ray Comes Through Just in the Knick of Time - CelticsBlog
.
Having someone like Allen to rely on is such a huge advantage. He's that player where, when he shot the game winner against the Knicks, every Knicks fans is screaming "how can you let him get open?" But in reality, it's his abily to get open, and to knock down those shots when he should be triple-covered that makes him so good. Well, that and a good
Kevin Garnett
illegal screen
/trip. The Knicks answered with their player who has that ability to kill you with last second shots, he just didn't work to create a good opportunity for himself.
And then there's Melo. When he received the ball with a few seconds left and a chance to tie or win, I was all like "wow, it would be VERY Melo to sink the big shot after sucking the whole second half", but he didn't. It ended up being a pair of quarters in which Anthony hit just one field goal (a put-back) and scored just three points. He was cookin' soup from outside in the first half, but it didn't feel sustainable and wasn't. Anthony attacked the basket only in spurts, and seemed hesitant to do so as the game progressed, perhaps because of several plays in which he was stripped and didn't get the calls he felt he deserved. 5-18 on the night, 2-8 from downtown, and just 15 points. He defended Paul Pierce decently, but got a bit lost when screens and switching took place. Nothing unusual there. I'm verrrrrry intrigued to see how he responds to this in game two.
via
Game One: Celtics 87, Knicks 85: "Everything hurts." - Posting and Toasting
.
Knicks fans can't be frustrated with Melo, this is who he is. Well, kind of. He's usually a very good clutch shooter, he was just off that game down the stretch. But they shouldn't be (and Posting and Toasting wasn't) surprised with him taking jumpers and not going to the rim. That's his game. Even jump shots are okay if you're working to get open shots. Use a pick. Work off-ball. Create some space. But no, instead, Melo literally worked to create the most difficult shot he could, and then was disappointed when it didn't work.
Amar'e Stoudemire
opted for some tough shots down the stretch, but they were tough because of the probability he was going to get fouled. And instead, he didn't get a chance to save the team he was the first to join last summer. That's a huge tactical mistake on the part of the Knicks, Mike D'Antoni, and Melo.
"I think we were doing everything in our power to get Amar'e the ball," Anthony said. "He had it going. He was the horse we were riding tonight. Tonight was his night. We tried to go to him, we were going to him, and he was producing. Toward the end, I think the Celtics made some adjustments."

Rivers said he instructed Garnett to start fronting the high post after Stoudemire had unleashed those two dizzying drives, and it worked. He picked his poison -- inviting Anthony to beat him -- and he won that test of wills and wits in Game 1.

"We feel comfortable with Carmelo shooting the ball there at the end," Stoudemire said. "He's been doing that his whole career."
via
Melo, Knicks miss opportunity in tough loss to Celtics - NBA - CBSSports.com Basketball
.
Yes, Melo. The Celtics made some adjustments. By willing you into going hero mode.
Hot-hand, no hot-hand, you should go with the guy who "has it" that night versus the guy who has been a popsicle for two quarters. Amar'e was decisive, strong, composed and downright physically terrifying. And instead the Knicks wound up with a jumper. Yeesh.
This New York team may not have Boston's playoff experience or consistent defensive intensity but they made great improvements over their regular season selves last night. They defended with gusto, particularly on the interior where they turned away multiple Boston layups (the Celtics, like the Knicks, shot only 50% at the rim, pedestrian figures compared to the regular season league average of 64.1%). As well, the Knicks proved they could hang with Boston during a slow paced game. And they have at least one player the Celtics had no answer for. So, we've got a series here.
via
Boston Celtics blog — Celtics news, analysis, commentary from CelticsHub.com
.
The pace thing is certainly interesting. This team is so poorly fit for D'Antoni's style after the trade. Slow, shooter point guard, gunning ISO wing, no real versatility at postion, and no real element of speed. Does that help in the playoffs? It did for most of the game. The ground out a game against the Celtics. They weren't going to be able to do that against the Celtics before the trade. Didn't have the personnel. Which is doubly weird considering
Carmelo Anthony
's been on high-pace teams for much of his career.
The Celtics actually had more success when they got out in transition. This was a weird game.
O'Neal did his best work during the Celtics' third-quarter surge, as they worked their way back from a 12-point deficit. He scored 6 points, blocked Anthony twice and kept alive numerous possessions.

"We won the game because of Jermaine O'Neal," Coach Doc Rivers said. "That's it. Forget his offense. His defense, his presence, his shot-blocking, his rebounding, his toughness."
via
Knicks Leave Opening, and Celtics Slip Past - NYTimes.com
.
Everyone assumed the Celtics would be sunk without
Shaquille O'Neal
. J.O. gave the kind of performance you have to have from role players in the playoffs. If the Knicks' lack of talent at center gives J.O. life, the rest of the East will have a bone to pick after a mediocre regular season from him.