Rick Adelman is reportedly out as coach of the Houston Rockets. Posted by Ben Golliver.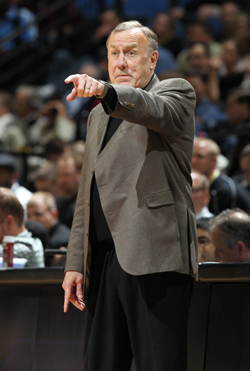 In a move that doesn't come as a huge surprise,
the Houston Chronicle is reporting
that the Rockets will not bring back head coach Rick Adelman for a fifth season.
Rick Adelman, who led the Rockets to their only playoff series win in 17 years and a franchise record 22-game winning streak, will not return as Rockets coach, a person with knowledge of the decision said Monday.
After consecutive seasons in which the Rockets failed to reach the playoffs, Adelman and Rockets general manager Daryl Morey failed to reach agreements on how they would continue to work together.
In four seasons with the Rockets, Adelman had a 193-135 record, the best winning percentage (.588) of any coach in franchise history. He moved to eighth in NBA history in career coaching wins with 945.
CBSSports.com's Ken Berger reported
that there was a good chance team and coach would part ways about two weeks ago.
At this stage of his career, Adelman is a "win now" coach, the kind of Xs and Os sideline master with the experience to take a quality team on an extended playoff ride, as he did with the Rockets in 2008-2009.
The problem, of course, is that the 2011-2012 Rockets will not be headed deep into the postseason. With the uncertain future surrounding chronically injured center
Yao Ming
and with a roster devoid of top-end talent, next season is almost guaranteed to be another rebuilding year for Morey and company. Adelman -- who is 64 years old -- expressed confusion at the team's trade for
Hasheem Thabeet
at the deadline and it's understandable that undertaking a player development and rebuilding effort wouldn't be his top priority. For the Rockets, that becomes a philosophical difference -- or at least a difference in motivations -- that required a change.
Given his decades of experience and the fact that he's taken multiple franchises to the Western Conference Finals, there's no question that his services will command interest around the league.
As for Adelman's replacement?
Yahoo! Sports reports
that former Cleveland
Cavaliers
coach Mike Brown and Orlando
Magic
coach Stan Van Gundy are two potential candidates while Rockets assistants Elston Turner and Jack Sikma will also be given interviews.