Los Angeles Lakers guard Steve Blake returns to practice after contracting chicken pox. Posted by Ben Golliver.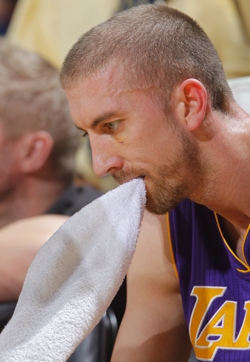 As you probably heard
, New Orleans
Hornets
point guard
Chris Paul
went off on the Los Angeles Lakers in Game 1, nearly posting a triple double, torching
Derek Fisher
down the stretch and carrying his team to a surprising upset victory.
Monday's update: help is on the way for Fisher. Reserve guard Steve Blake, who had been away from the team dealing with a case of adult chicken pox, returned to Lakers practice and is expected to play in Game 2
according to the Los Angeles Times
.
The Lakers ... expect he'll return to play Game 2 on Wednesday against the New Orleans Hornets, with Coach Phil Jackson saying, "He was right back on the level we want him to play."
...
There were more pressing concerns, such as how Blake contracted chickenpox, a disease that mostly afflicts children.
"I have no idea. It's not like I went up to someone and shook someone's hands and they had spots all over them," Blake said. "You just don't know how you get something like that."
ESPNLA.com reported
that Jackson also said he likes the idea of Blake guarding Paul.
"[Blake is] a really good alternative," Jackson said. "Chris outweighs him by about 30 pounds, but he's a really good alternative. We expect him to recover fully. Maybe I shouldn't say fully, but he looked good today. He didn't have stamina, but he looked good."
Paul, one of the most intelligent and versatile point guards in the league, is a tough guy to try to get your stamina back against. Jackson won't need to rush Blake back, though, with Fisher,
Shannon Brown
and All-Star
Kobe Bryant
comprising a solid three-guard rotation. Any minutes that Blake gives the Lakers in Game 2 will be an unexpected bonus, as most media observers had speculated that Blake could miss the entire first round series.
On the season, Blake is averaging 4.0 points and 2.2 assists in 20.0 minutes per game. He appeared in all but three regular season games for the Lakers.