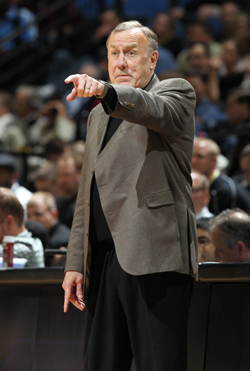 Posted by Royce Young
Though he wasn't a fit with the
Rockets
, most everyone agrees -- Rick Adelman is a very good coach. He "mutually parted way" with Houston yesterday and the word is, he's not done coaching. Currently there aren't any open coaching slots as of now -- excluding the Rockets one, which I'm thinking he's not a candidate for.
Except there is one that
will be
open for sure at season's end. The Los Angeles
Lakers
position.
Phil Jackson has made it very, very clear that he's retiring after this season.
And while the leader in the clubhouse for the position is Brian Shaw
(he's got Kobe's stamp of approval), there is some uncertainty as to who the Lakers might target. Are they looking for the next up and comer like Shaw, or could they try and track down a solid veteran coach... like Adelman?
Fran Blinebury of NBA.com is thinking the same thing and writes:
Make no mistake about it: as No. 8 on the list of all-time wins (945), Adelman can still cut it in today's NBA. Even though general consensus has Brian Shaw succeeding Phil Jackson, the Lakers would be foolish not to give Adelman a look. Nobody in the profession would make the offense as easy and satisfying to Bryant than Adelman.

If Adelman wants to continue coaching, he'll be back in the league winning games somewhere next season.
It's an interesting thought. I'm not really thinking it's all that likely because it definitely feels like this job is Shaw's. But Adelman is a proven winner and might be a good fit for the next few years as the Lakers wrap up the Kobe Era. Adelman isn't a long-term 15-year guy, but for the next four or five seasons, it could work.