We reset the Blazers-Mavericks series with Game 2 ready to tip Tuesday night. Can Portland bounce back in the Big D? Posted by Ben Golliver.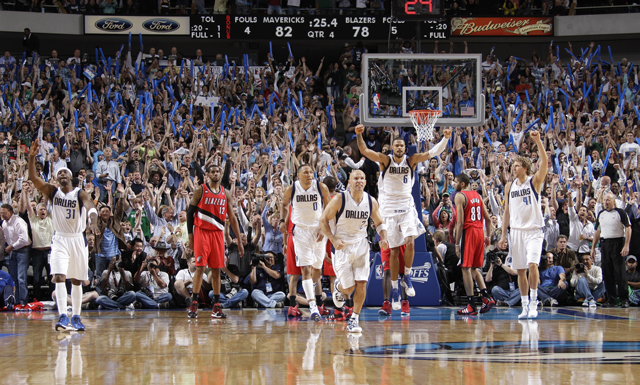 The Narrative:
Dirk Nowitzki
's big fourth quarter -- including 13-13 from the free throw line -- did Portland in during Game 1. Blazers coach Nate McMillan was left to gripe about the officiating afterwards,
earning himself a big fine
from the league office. On Tuesday, though, it was Dallas's turn to be up in arms about the referees, as longtime franchise nemisis, Danny Crawford, is set to be the Game 2 crew chief. As
ESPNDallas.com points out
, the
Mavericks
are just 2-16 in playoff games that Crawford has officated. Mavericks owner Mark Cuban has refused to comment (so far).
The Hook:
Game 1
did not play out as expected
: Nowitzki struggled from the field,
Jason Kidd
exploded for a season-high and both
Jason Terry
and
Gerald Wallace
were virtually invisible. About the only things that went according to plan were
LaMarcus Aldridge
's continued dominance of his Mavs defenders (27 points and six rebounds) and the lackluster shooting from Portland's guards (
Brandon Roy
,
Wesley Matthews
and
Rudy Fernandez
combined to shoot 4-13, and Portland shot 2-16 overall from three-point land). If there's a big concern for Portland, it's that shooting. The slow-tempo Blazers had to love that neither team cracked 90 points in Game 1, but desperately need a third scoring option to emerge to take pressure off of Aldridge and point guard
Andre Miller
.
That person figures to be Gerald Wallace, who was out-of-sync in Game 1, and had trouble finding space and touches as Dallas's defense packed it in. Wallace has talked about the need for
upping the tempo
, but what he really means is that Portland needs to win the turnover battle (each team had 13 in game one) and convert some easy buckets in transition. Wallace is a star in the open court and a few runouts off of steals or one-man fast breaks off of defensive rebounds can change momentum in a hurry.
The Adjustment:
The must-watch strategic decision will be how many minutes Blazers guard Brandon Roy plays. For most of the last month, Roy's playing time has hovered between 15 and 20 minutes as he's been tasked with being a facilitator off Portland's bench. In Game 1, though, McMillan chose to ride Roy for virtually all of the fourth quarter. The move didn't work. Roy's production -- 1-7 shooting -- was in line with his recent struggles (he shot 33% in April). Meanwhile, Portland's starting two guard, Wesley Matthews, sat watching on the bench without ever impacting the game. While Matthews is wise and mature beyond his years, he's still a second-year player with consistency issues; McMillan's Game 1 rotation sent a fairly clear message that he didn't feel that Matthews could be counted upon at that moment. Was that a one-time thing? If so, how will Matthews respond?
Does McMillan re-think that decision and go back to using Matthews down the stretch? It's something he's done for most of the spring and which has paid dividends in big games, like when Matthews picked
Manu Ginobili
to help set up a dramatic come-from-behind victory over the San Antonio
Spurs
in March. Or, does he decide to ride or die with Roy, a player who has had playoff success but who has also admitted that his struggles are "mental"? No one can know for certain, and it's unclear whether McMillan is planning that decision in advance or waiting to see how the early stages of Game 2 play out.
The X-Factor:
Terry, Dallas's second-leading scorer during the regular season at 15.8 points per game, continues his struggles against the Blazers. He reached his season average just once in four regular season games against Portland and scored just 10 points in Game 1, with five of those coming on late free throws. That Terry would only attempt five shots in 27 minutes is eye-opening, but it's also a product of Kidd frequently calling his own number. Kidd was red hot in Game 1 -- going off for six three-pointers and 24 points -- and that's not a performance we'll likely see in back-to-back games. With J.J. Barea also struggling and Rodrigue Beaubois set to be a game-time decision, Terry simply must produce for Dallas. Otherwise, the offense will be imbalanced and Nowitzki will be swarmed liked mad.
The Sticking Point:
With so many veterans playing big minutes and so little production coming from each team's bench in Game 1, a major sticking point to watch for the rest of the series is whether both coaches tighten their rotations, applying even more pressure on their stars and elder statesmen. McMillan is playing just eight guys while Mavericks coach Rick Carlisle played nine. How McMillan divvies up playing time for Aldridge (who played 41 minutes), center
Marcus Camby
(29 minutes) Andre Miller (34 minutes) and Gerald Wallace (39 minutes) will be the place to start. It's quite possible all four of those players see more time in Game 2, pending foul trouble of course. For Dallas, unless Barea steps up, the temptation will be to ride Nowitzki (39 minutes), Kidd (34 minutes) and
Tyson Chandler
(32 minutes) even harder as well.
Who, if anyone, breaks first under the strain of additional playing time? And at what point in the series does it happen?