Former NBA player Oliver Miller was arrested after an incident at a barbecue. Posted by Ben Golliver.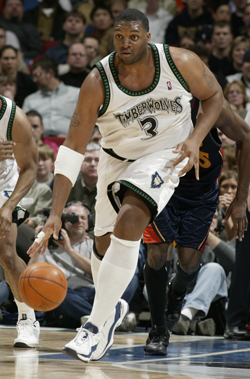 My great-grandfather Elmer taught me two lessons. One: Never interrupt an argument between a husband and a wife. Two: never, ever stand between a man and his plate of ribs.
It sounds like someone violated Elmer's second commandment on Tuesday, as former NBA player Oliver Miller, best known for his outlandish weight, was arrested after he allegedly pistol-whipped a man at a barbecue
according to a report from WUSA9.com
.
A former NBA player was arrested Tuesday morning for pistol whipping a man at a barbecue, police said.
Oliver Miller, 41, of Edgewater, was arrested after police were called out to a barbecue in Arnold, Md., for a report of an assault with a handgun, police said.
Miller wasn't at the Birchrest Court home Sunday, when police arrived to the call. Police say they tracked him down based on eye witness accounts and a 9MM GLOCK magazine that was left behind at the scene.
Can you imagine being the lab technician whose job it was to pull honey barbecue sauce stained fingerprints off of a Glock, only to realize that they belonged to a notorious former NBA player who
recently topped out at 415 pounds
? Is that the best day of your life or the saddest day of your life?
Miller is reportedly being charged with first and second degree assault and a slew of gun charges.
Miller played nine seasons in the NBA, averaging 7.4 points, 5.9 rebounds and 2.2 assists per game. The journeyman center played for the Phoenix
Suns
, Detroit
Pistons
, Toronto
Raptors
, Dallas
Mavericks
, Sacramento
Kings
and Minnesota
Timberwolves
.