League has serious reservations about Maloofs' relocation plan to Anaheim as relocation committee visits Sacramento to test Mayor Kevin Johnson's claims regarding market viability. Do the Kings stay?
Posted by Matt Moore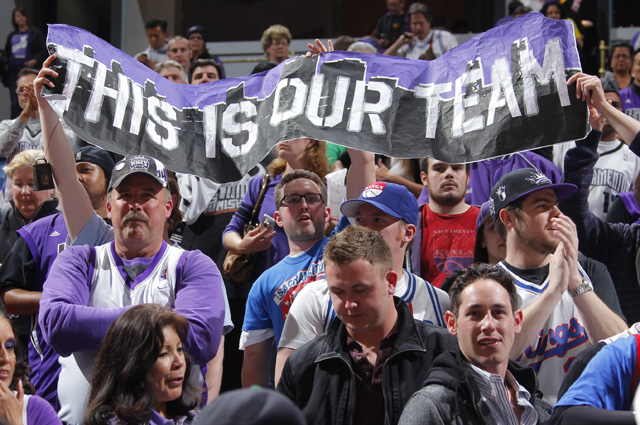 You'll have to forgive us for having jumped too early. It's just, it wasn't supposed to go like this. As in, it never goes like this. An NBA owner manages to avoid their small market poneying up for a new arena, and the door's supposed to magically swing open to relocation. After all, how can the owners vote against one of their brethren, knowing that if they are a large-market owner, continued strength in those areas is best for them, and if they are a small-market owner they would be setting a precedent to vote against their own bid later? Despite the bickering between franchises that goes on daily in the NBA, the owners stick together, right?
Yeah, not so much, looks like.
Sam Amick of
Sports Illustrated
has the Sacramento beat down as well as anyone and he reports this week that momentum on that midnight train to Disney Land has hit some major breaks, thanks to questions from the NBA Board of Governors that have left the Maloofs facing a pretty depressing future: a possible, maybe probable return to Sacramento.
The next two days are pivotal. Johnson will host relocation committee chairman and Oklahoma City Thunder owner Clay Bennett and league counsel Harvey Benjamin in Sacramento and attempt to prove the case the mayor made so strongly at the NBAs Board of Governors meetings last week: that his city remains a viable market. On the other bench, sources say the Anaheim presentation given at the meetings was as ineffective as Johnsons was impactful, and there is serious doubt as to whether there will be enough support to warrant the Maloofs filing for relocation a majority vote is needed to approve a move when a team files.
via
Strong indications Kings may be in Sacramento next year - Sam Amick - SI.com
.
The big issue here? TV money, the golden calf of NBA financing. As opposed to NFL television rights, which are collective and shared throughout the league, each NBA team gets to negotiate its own TV deals. Which is why some teams, like the
Lakers
, are due for $5 billion over 25 years, and some teams make less than they're paying their third best player, like the
Bobcats
. The Kings' relocation to the lucrative SoCal market was supposed to suckle at that market that ensures the Lakers profit ridiculous amounts by winning and the
Clippers
make great money even by being the freaking Clippers. Instead, Amick reports a $20 million deal is all they have acquired in the Anaheim relocation package, through a minor network through a relationship with Samueli, the mastermind behind the bid to send the Kings to his Anaheim arena. $20 million is the league average, so the ownership was pretty much "eh" when faced with that number.
Are these just concerns? Is there any real momentum to the move? This paragraph from Amick should read as a punch in the face of the Maloofs.
There were internal signs that the league is taking Sacramento seriously this week. Two sources said an NBA representative called on Monday to advise the Kings' business team to prepare the season-ticket packages and corporate sponsorship plans that had been on hold since rumors of the move were legitimized in February. Team employees had been in a holding pattern for months, but they were told to be ready to deliver the goods to their customers in the coming weeks should a happy ending be on the horizon. There was similar movement in other areas of the organization, with the notion of a Kings return suddenly seeming somewhere between possible and probable.
So the league has advised the organization to start selling tickets in advance of a move against the wishes of ownership. Pardon us while we "LOL" for a little bit.
The Maloofs thought this was going to be easy. They may get their way, get their Los Angeles Royals of Anaheim. But the city's not going down without a fight, and in this last round, it's Mayor Kevin Johnson who's landed all the punches.