The Trail Blazers hope to avoid going down 3-0 to the Dallas Mavericks as the series shifts to Portland. Posted by Ben Golliver.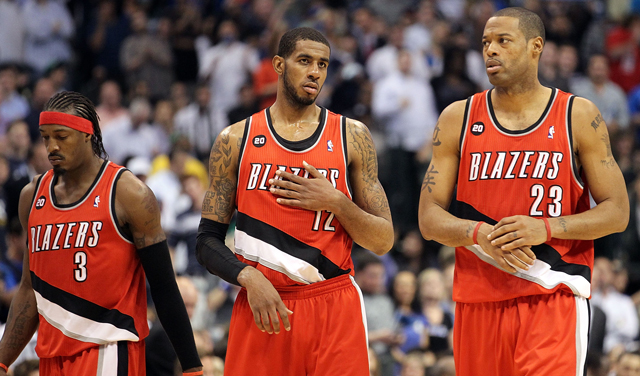 The Narrative:
Dirk Nowitzki
did it again in Game 2, scoring the last 11 Mavericks points as Dallas blew the Portland Trail Blazers out of the water down the stretch for the second time in as many games. Portland's defense was a step slow or a step out of place all night, and Dallas carved it up late, scoring 28 points in the final period. Dallas's depth advantage was crucial, as Portland played a six-man rotation (plus 19 combined minutes for
Brandon Roy
and
Rudy Fernandez
) while Dallas got minutes and contributions from nine guys. As a result, the veteran Mavericks have looked more cohesive and more energetic on both ends, and have simply dominated the late-game scenarios.
Portland is reeling: trailing 0-2 in the series, trying to tamp down drama caused by
an emotional and frustrated Roy
and, more than anything, still searching for a way to stop Nowitzki with the game on the line. The Blazers walked off the court following Game 2 with an air of frustration and exhaustion. Will they show up re-energized for Game 3? If not, the prospect of an embarrassing and unexpected sweep lingers. That would represent a step backwards for this club, and could lead to some serious roster re-tooling over the next 12 months. In other words, everyone currently on the team that wants to remain on this team should have a bit of extra motivation.
The Hook:
Portland's hopes for turning things around and avoiding what would be an insurmountable 0-3 deficit start with their return to the Rose Garden. The Blazers were 30-11 at home this year, including two wins over the Mavericks. They swept their last seven home games against Western Conference playoff teams (
Nuggets
, Mavericks,
Spurs
,
Thunder
, Mavericks,
Lakers
,
Grizzlies
). Many of the wins featured strong late-game play, particularly on the defensive end, something the Blazers haven't yet shown in this series.
The buzzword is energy, though, the kind Portland brought early in Game 2 but which disappeared in the second half. Forward
Gerald Wallace
, guard
Wesley Matthews
and reserve forward
Nicolas Batum
all have shown the ability to up their game by feeding off the home crowd. They'll need to, as none of those guys has convincingly won their match-ups yet in this series.
The Adjustment:
As mentioned, the Blazers went 7-0 in their final seven home games against Western Conference playoff teams. In those games, Portland won by an average margin of five points, yet shot the same field goal percentage (46%) as their opponents, shot worse from the three-point line (35.8% to 38.5%) and averaged just two more trips to the free throw line. Was this a matter of Portland's vaunted offensive rebounding carrying the day? Nope. The Blazers were out-rebounded, on average, 41-38 and gave up more offensive rebounds than they corralled.
So if the Blazers were shooting worse, rebounding less and getting to the free throw line just two extra times per game, how did they manage to win all seven games by such a wide margin? Turnovers.
Portland's slow-down pace and focus on ball control gave Portland a +2.6 turnover differential on the season (Portland averaged 12.4 turnovers while its opponents averaged 15.0). During the closing 7-0 stretch, that already strong differential doubled to +5.2 (Portland averaged 9.4 turnovers while its opponents averaged 14.6).
Blazers coach Nate McMillan likes to call possessions "bullets". Dallas tied its season-low by committing just six turnovers in Game 2. The best way for Portland to keep pace with Dallas's offensive-efficiency machine is to have a significantly larger magazine in Game 3 -- just as they did to close the season against the West's best teams.
The X-Factor:
One player who is both capable of creating turnovers and cashing in on them is Fernandez, who has done nothing of note yet in this series, averaging 3.5 points and making just one three-pointer over the first two games. Fernandez, frankly, has been a disappointment in his third season. Other than selling a few t-shirts with his inane three-goggles routine, it's been all bad. His outside shooting has fallen off a cliff (a career-low 32.1% from deep) and he's failed to show any meaningful progression in other aspects of his offensive game.
Still, while he's not blowing anyone away this season, Fernandez does play significantly better at home, where he averages 10.0 points, shoots 39.3% from the field and 35.1% from deep. On the road, those numbers slide to 7.2 points, 34.6% from the field and 28.9% from three-point range. He also plays five more minutes a game at home, a sign that his energy level and impact is greater, as Blazers coach Nate McMillan is a bit of a juggler when it comes to managing his second unit.
Dallas's bench outscored Portland's 39-11 in Game 2, and most of the talk surrounding those numbers has centered on Roy, who brought it upon himself by expressing dismay at his lack of playing time in Game 2. But Roy represents only one-half of Portland's bench problem. Fernandez, obviously, is the other. To win Game 3, the Blazers will need Fernandez to help put a dent in that bench scoring differential, or they are left to pray for a monster night from Roy. The dream scenario is for both to happen on the same night.
The Sticking Point:
Portland faces such an uphill battle because Dallas's scoring balance has stretched Portland past its breaking point. With
Jason Kidd
and
Peja Stojakovic
providing more than enough from the outside to complement Dirk Nowitzki, the Blazers defense has looked a bit like someone playing wack-a-mole for the first time. The sleeping giant remains guard
Jason Terry
, who has taken on more of a play-making role while averaging 10 points per game in the series, six below his season average. If Portland begins to throw more double teams at Nowitzki -- which would make sense, given his dominance -- Terry is the likely No. 2 man to step up late for Dallas. And he's more than capable of winning a tight game with his jumper.