Joakim Noah understands why Tyler Hansbrough is fouling Derrick Rose hard, says he's not a dirty player. It's not cool, but, you know, it's cool.
Posted by Matt Moore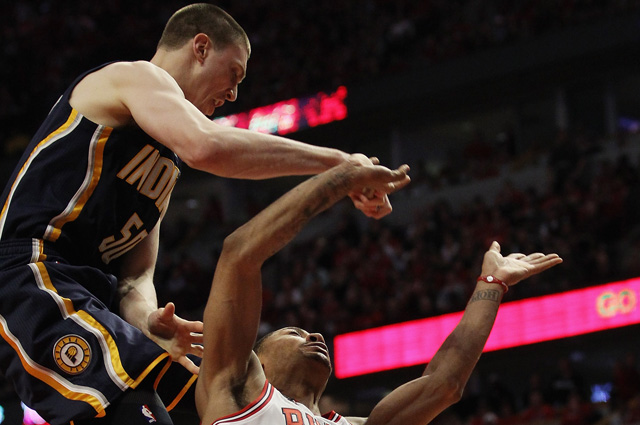 Joakim Noah has a habit of not getting along with tough power forwards.
Kevin Garnett
, for example, Noah pegged as "mean." But Tyler Hansbrough, who took som flak from Chicago players and fans after delivering a hard foul to Derrick Rose in Game 2, doesn't think that "the 'Brough" qualifies as a dirty player. Although he is willing to add doubt as to Psycho T's (worst nickname ever) hygeine. From ESPN Chicago:
When asked before Thursday morning's shootaround if Hansbrough is a dirty player, Noah said: "Like dirty as in he doesn't take showers?"

It's obvious Noah doesn't believe Hansbrough is a cheap shot artist.

"I don't think so," he said. "I just think it's the way the game's played right now. It's just the way it goes. Nothing easy to the basket. And when you have a little point guard going in there every time the way Derrick's going in, you don't want to be on a highlight reel, so you've got to give a hard foul. It's just the way of the game. Sometimes, yeah, it's frustrating because you never want Derrick getting hit like that, but it is the name of the game right now."
via
Noah: Hansbrough not a dirty player - Chicago
Bulls
Blog - ESPN Chicago.
Hansbrough looks pretty shiny, but that could be grease from not showering, I suppose. It's nice that Noah's reasonable about the fouls being given to Rose. If you're going to go the basket every single time with relentless intensity and brilliant finishing ability, the NBA is going to foul you hard. That's how this whole playoffs thing works. And were Rose on the other side, it would be Joakim Noah delivering those kinds of fouls, and not feeling bad about it.
Because it sure as heck wouldn't be Boozer giving them. He might try, but it would only result in an and-one highlight reel. And yelling. Lots of yelling.
That said, it's not like the
Pacers
have really hacked at Rose all that much. To do so would mean they would have to catch up to him first. And in general, even when he's running right at them, they seem unable to get a lock on him as he spins around and scores again and again. We'll have to see if Noah continues to have this attitude when it's
Dwight Howard
, Kevin Garnett, or ...
Joel Anthony
(?) sending Rose to the floor as the playoffs advance.