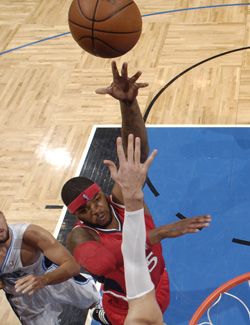 The series the public forgot shifts back to Atlanta for Games 3 and 4 tied. We reset the series and wonder about J-Smoove, Horford, J.J. and more.
Posted by Matt Moore
The Narrative:
Is there something to be said for the
Hawks
losing Game 2 in a close one, despite playing terribly? Is there something to be said for Orlando winning despite not shooting well? Is it a good thing or a bad thing that
Dwight Howard
dominated in the first two games for the
Magic
but they were solidly beaten in one game and squeaked it out? Can Atlanta hope for their mediocre shooting to improve, or is this who they are, and Game 1 was a deviation?
We don't really know the answers to all that at this point. Magic fans are banking on Atlanta shooting like they did in Game 2 while Orlando's offense opens up like a flower in bloom. Hawks fans are banking on the shooting returning to an even decent level while their defense continues to hold everyone not named Howard in check. It's ridiculously simple, actually. The Hawks' matchup advantages counter Orlando's star power. So it comes down to shooting. The Hawks can beat the Magic shooting a percentage over what Atlanta usually holds teams to, but can't if they continue to sit in the freezer. The Magic can regain the series advantage by shooting somewhat close to what they usually do as long as Orlando can hit water from a boat.
It really does just come down to making shots.
The Hook:
Josh Smith
can do what he wants. He really can.
Brandon Bass
has no shot at guarding him.
Ryan Anderson
has no shot at guarding him.
Hedo Turkoglu
did a good job for a long stretch in the second half of Game 2, but in reality, again, Smith has the advantage. The only thing that can stop Josh Smith, really, is himself. In Game 1 he took two 3-pointers. In Game 2, he took four. This isn't a big differential, except that every shot Smith takes from the perimeter is one more he's not taking inside or at the rim. Smith has taken considerable leaps to tone down his penchant for perimeter shooting, but when he drifts back into that, the Hawks lose a valuable weapon.
Here's a look at Smith's possessions in Game 1 vs. Game 2, via Synergy Sports.
| | | |
| --- | --- | --- |
| Josh Smith possessions | Game 1 | Game 2 |
| Post-Up | 4 | 3 |
| Transition | 2 | 2 |
| Pick and Roll | 2 | 2 |
| Spot-Up | 3 | 6 |
| ISO | 3 | 1 |
Now, Smith's probably the
only
Hawk you can look at and say, "Man, that guy should really go ISO one one one. The Hawks are an ISO factory. But Smith's one of the only ones with a clear advantage man-up, physically. Most concerning though, is that big glaring "6" in the Spot-Up row for Game 2. If Josh Smith is shooting spot-up jumpers, there's something wrong with the world. Or the Hawks. More specifically, the Hawks. Another few possessions for the Hawks where Smith is aggressive, and they might be coming home with a 2-0 lead. Smith has to stay aggressive or the Hawks are going back into the offensive swamp again.
The Adjustment:
Head coach Larry Drew got blasted by just about everyone for benching
Al Horford
for almost the entire first half after he picked up early foul trouble. Don't get me wrong, that was a terrible decision, but Horford just didn't have it in that game. He didn't shoot well, and struggled even to overcome Brandon Bass in the post. This isn't to say Drew was correct, he wasn't. But Drew has bigger issues than just Horford's minutes. He needs to get a strategy for defending Dwight Howard and stick to it.
Jason Collins
finished with three fouls.
Zaza Pachulia
finished with four.
Hilton Armstrong
with two. Al Horford with two. The idea of making Dwight Howard beat you by his lonesome isn't a bad strategy. It's actually a pretty good one. But it's got to be done using the line. If two of those four players don't foul out by the end of the game, Drew has coached badly. Howard's a terrible free throw shooter. If they're not going to double on him to contain him, they have to at least make him work at the weakest part of his game to beat them.
The X-Factor:
J.J. Redick
hasn't shot well as he recovers from injury. That's going to change at some point. If not him, then
Chris Duhon
. If not either of those players, then
Gilbert Arenas
, should he see the floor. One of the Magic's guards has to get warm at some point, and they need to have their trigger fingers ready. The Hawks have been running off the 3-point shot well in this series and the Magic seem to have no interest in making the extra pass. If they get the ball, the guards need to shoot.
The biggest reason the Magic need this is to counter
Jamal Crawford
. The Magic can't keep getting blasted by Crawford and Johnson with no significant contributions outside of
Jameer Nelson
and possible
Jason Richardson
. There's got to be some effort to balance the scale, which puts more emphasis on Howard, which is what the Magic want.
The Sticking Point:
It's a counter-intuitive mismatch of offenses. The Hawks' ISO heavy weaponry against the Magic's one-pass-and-done kick-outs. The Hawks have to keep running off the three, while the Magic have to try and stick the Hawks' weapons on the perimeter. Everyone's laughing at the lack of ball movement by Atlanta, but the thing is, they're able to get those shots off against opponents who don't have a good capability of defending them. The Magic have been frozen from the arc, comparatively, but you have to believe those shots will eventually fall. How that tug of war ends up will decide the next two games in Atlanta.