We reset the Hornets-Lakers series with Game 3 set to tip Friday night. Posted by Ben Golliver.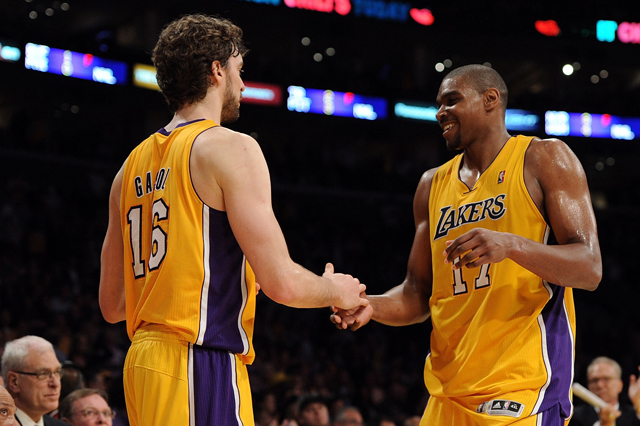 The Narrative:
The Los Angeles
Lakers
showed up on Wednesday, evening their first round playoff series with the upstart, over-achieving New Orleans Hornets at one game apiece. The way Game 2 unfolded is how most thought this series would play out, with the Lakers pounding the ball to center
Andrew Bynum
and the Hornets helpless to stop him. Contributions from
Ron Artest
and
Lamar Odom
made up for off nights from
Kobe Bryant
and
Pau Gasol
, which goes to show the gap in talent between the two sides. L.A.'s top two players can have off nights -- a combined 5-20 shooting and 19 points -- yet the Lakers can still roll fairly easily. On the flip side, if
Chris Paul
isn't excellent, the Hornets don't have a chance.
Despite that talent gap, the Hornets stole homecourt advantage in Game 1 and now it's incumbent upon them to protect it as the series shifts to New Orleans for Games 3 and 4.
The Hook:
Game 3 has all the makings for a frustrated and vengeful Kobe Bryant -- bent on making amends for his Game 2 performance -- looking to set the tone early. The Lakers used Bryant and a host of other defenders against Paul in Game 2. The extra attention limited Paul to 20 points and nine assists, numbers that Lakers coach would be thrilled to see again in Game 3.
Aside from Bryant's impact on both ends, look for some force-feeding to Gasol as well. The Lakers can't afford to continue to get marginal production from their talented big man. The undersized, but strong,
Carl Landry
has played him well and scored on the other end; It's time for Gasol to take back ownership of that match-up.
The Adjustment:
Andrew Bynum fouled out in Game 2, but not before playing 32 minutes, shooting 8-11, putting up a 17-point, 11-rebound double-double. In the process, he
looked like the NBA's second best center
. The big adjustment here is whether the officials will treat him differently on the road. How often do we see aggressive big men hampered by early whistles in road playoff games? How often do we see them respond with frustration rather than precision? Keeping Bynum on the floor and actively engaged will be crucial for L.A. to take back the home court.
The X-Factor:
After being held to under 80 points in Game 2, it's incumbent upon New Orleans' role players to provide an additional scoring punch. One guy to watch is guard
Willie Green
, who took just six shots in 12 minutes and wasn't much of a factor. If not Green, then
Jarrett Jack
, who was big in Game 1. Unfortunately for New Orleans, both Green and Jack had better scoring numbers on the road than at home this season, and neither got loose in any of the Hornets' four regular season losses to the Lakers. That could be a problem.
The Sticking Point:
The Achilles heel for New Orleans in Game 2 was their defensive rebounding, as the Lakers grabbed 13 offensive rebounds and won the battle of the boards overall, 44-36. There's really no easy solution other than five-man effort on the glass, given the personnel available to them. L.A. brought the effort on the offensive glass in Game 2, something they don't always do consistently. Both Games 1 and 2 were played at New Orleans' preferred slow pace, but second-chance opportunities and extended possessions ruin that comfort zone in a heartbeat. If I'm Hornets coach Monty Williams, I'm drilling the "keep our boards clean" point home during the pre-game talk.