Posted by Royce Young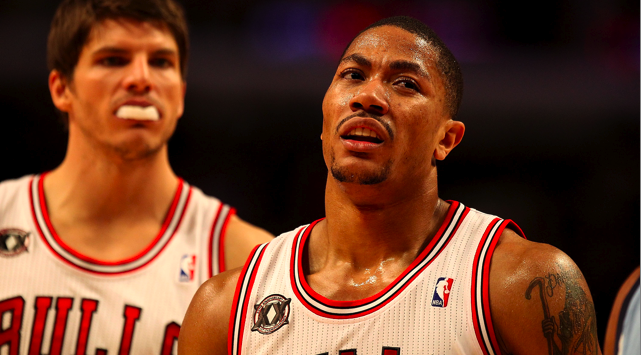 The Narrative:
This series is over. No team has ever come back from 3-0 down in NBA playoff history and the 37-win
Pacers
are not about to be the first. The thing Pacer fans will remember about this postseason was just how close they were to making this a competitive series. It's hard to get over the three losses coming by a combined 15 points. That's just tough to get over. A rebound here, a basket there or a stop somewhere and maybe this series is 2-1 and still interesting.
Instead, the Pacers are sunk. It's over. Now it's just a matter of crossing some t's and dotting some i's.
The Hook:
Will the Pacers roll over? What do they have left to give? Every game has been very close and very competitive with the better
Bulls
just figuring out a way to win. That's probably what'll happen again here, but the question is how the Pacers will respond to this situation. When the series began it was just about "happy to be here." After a tight Game 1, it was "can they steal a game in Chicago?" After a tight Game 2 it was "can they regroup?" This time it's "will they fold?"
The Adjustment:
At this point, I think Indiana has done all the adjusting that it can. The Pacers know they aren't as good as the Bulls and though they've been close three times, they now know they can't beat Chicago even when
Derrick Rose
plays badly.
Chicago though, has a couple things to clean up, especially as they prepare to advance on. The Bulls need to refocus on the offensive end. Rose did not play well in Game 3 save one brilliant drive to win the game. Chicago needs to put together a better offensive strategy to attack the athletic Pacers and build a bit of confidence moving forward.
The X-Factor:
Well, it's become
Kyle Korver
. He's 7-8 from 3 in this series and in the big moments where all the focus is on Rose, Korver has found space for clean looks. And he's about as good as there is at drilling open looks.
The Bulls don't have a crunch time secondary scorer right now, but Korver has sort of stepped in as such just by the product of him being a good shooter and being open.

The Sticking Point:
I've gone back and forth about 25 times on if I think Indiana has tossed its best shot and is ready to just concede the series. Part of me says the Pacers are still game to send the series back to Chicago, but another tells me that three tight crunch time failures is just about enough to snap their backs.
So I'll just settle in between. The Bulls are going to win this game, but the Pacers will keep it tight for a good 40 minutes. But the Bulls are finally going to impose their will and finish Indiana late. We're all waiting to see that. We're all waiting to see the Bulls that won 62 games. We're all waiting to see this team that can supposedly contend. This would be a good place to start.