Posted by Royce Young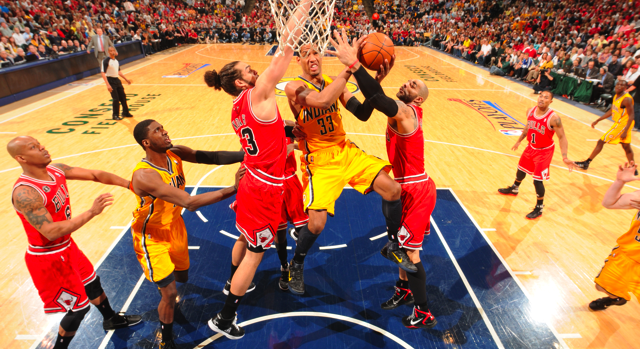 With the
Pacers
holding an 18-point fourth quarter lead over the
Bulls
, everyone inside Conseco Fieldhouse could feel it coming -- half of those being Chicago fans. You knew this game wasn't over. Not with these Bulls. More importantly, not with these Pacers.
Chicago ripped off a 13-1 run the last four minutes to cut Indiana's lead to one with 15 seconds left and it just looked like deja vu. The Pacers were about to somehow, someway, give away another game to the Bulls and in turn, close the series. It would've been in a new way too -- not rebounding or late execution to blame as much as the 12 missed free throws.
This time, though, the Pacers did just enough. And I mean that.
Just
enough. After
Danny Granger
drilled two from the line, Indiana kept the ball away from
Derrick Rose
and
Kyle Korver
instead of forcing
Carlos Boozer
to attempt a game-tying 3 with a few seconds left. He missed and, finally, the Pacers took a game.
Here's the funny thing about this game, at least to me: It was pretty much the exact same game as the first three. The Bulls didn't play well, the Pacers did and Indiana had a lead in the fourth quarter with a good chance to win. The only difference on Saturday, is that, for once, the Pacers actually finished with more points on the board.
Don't underestimate the importance of that either. No, they aren't winning this series and probably won't take another game, but hanging on for a win really says something about them. They played virtually the same game, except this time, they won. That's maturation. That's development. That's
important.
It's not like the Pacers did a whole lot better in crunch time, though. They still just scored seven points the last five minutes with only one basket. The Bulls still almost came back from the dead to break Indy's heart. Two things that changed for them:
1) The hole Chicago fell in was a bit too deep. Down 16 in the last four minutes is a pretty tall mountain to climb. (However, how bad is it for the Pacers when absolutely NO ONE was convinced they had this thing won when they were up 16 with four minutes left. When does that ever happen?)
2) The Pacers made a couple big plays. The biggest was probably
Darren Collison
's block of Rose at the rim with 1:13 left. Rose would've cut Indy's lead to just three with a minute left, but instead the Pacers had the opportunity to run off 24 very important seconds.
And there were subtle signs that this game might be different. A Kyle Korver 3 was disallowed after review for being after the shot clock expired, and later, Korver air-balled a 3 with 4:40 left. The previous three games, Korver had hit a number of big shots to sink Indiana. In Game 4, the two big ones he had either didn't count, or didn't even touch iron.
Because, as I wrote after Game 2,
it's gotten to the point where Korver sort of has to carry the Chicago offense in late-game situations. That sounds crazy, but in this game, Rose actually missed 10 consecutive shots before making a layup. After a 4-18 effort in Game 3, he went just 6-22 and 1-9 from 3. He did a much better job this time around of involving teammates (10 assists) but there's just no denying that Rose hasn't been the Derrick Rose the past few games that will win the MVP.
Either someone else has to step up with a couple key buckets -- i.e. Korver -- or Rose has to play wonderfully -- i.e. Games 1 and 2. That's the position the Bulls have put themselves in so far in this series. Maybe it's actually a good thing they get another shot to work some of this stuff out before it gets serious against either Atlanta or Orlando.
But, back to the Pacers. This is big for them. Maybe this means Frank Vogel gets the interim tag taken off. Maybe this encourages the front office to spend a little this summer. Maybe this gives the team a lift and some momentum into next season. Don't underestimate the value of winning a game like this, even if it just delays the inevitable. Not only would blowing an 18-point lead be something devastating, but getting swept in a series where there was a real chance to win not just one, not two or three but all four games, would be difficult to swallow.
The Pacers were never given a shot coming in. There was no reason to give them one. They entered the postseason eight games under .500 and were playing the team with the best record in basketball. But Indiana has scrapped its way to a win. It's a bit overdue and definitely a little late, but there's no denying it ... it's pretty important.