We reset the Hornets-Lakers series with Game 4 set to tip Sunday night. Posted by Ben Golliver.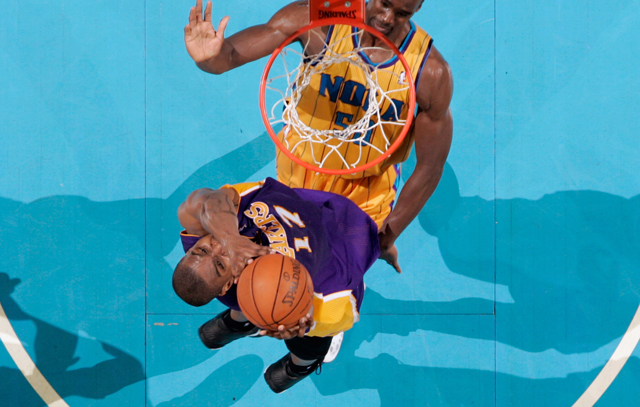 The Narrative:
We've learned a few things through the first three games of this series. First, Los Angeles has a clear, readily-exploitable size advantage over New Orleans, a gap so significant that the Hornets have no available adjustments. They just have to hope that
Pau Gasol
or
Andrew Bynum
(preferably both) decide not to dominate. Second, the Hornets need a monster night from
Chris Paul
to create an environment for their role players to succeed. If Paul isn't going off, the other Hornets wings haven't proven capable of generating their own offense on a consistent basis. Third, we've learned that Los Angeles approaches these games with varying degrees of intensity.
In Game 1, the
Lakers
were surprised by an all-round gem from Paul and were too stunned to recover. In Games 2 and 3, they committed more energy and thought on the defensive end, and New Orleans looked like it was drowning. Game 4, then, comes down to how focused the Lakers decide to be. They've regained home court advantage in the series, and could easily treat this as a coast game. New Orleans, on the other hand, clearly sees this as a must-win. Will that gap in motivation be enough to overcome L.A.'s talent gap? Or will the Lakers handle this one professionally so they can close this thing down in Game 5 at Staples Center?
The Hook:
Chris Paul has been lauded for years for his competitiveness, and rightfully so. After going for 33 points and 14 assists in Game 1, he's been limited to 20 and nine in Game 2, then 22 and eight in Game 3. Those numbers are still solid but, unfortunately, insufficient. As a team, the Hornets scored just 78 points in Game 2 and 86 points in Game 3. Paul's output (scoring plus assists) represents roughly half of their offense in both contests. New Orleans simply needs more from him. Game 4 will be a referendum on Paul's ability as a one-man show. Yes, he'll get some help from
Carl Landry
, who has steadily produced 17.3 points and 5.7 rebounds in this series. Landry only has the potential to hold his match-up even, though. Paul has the ability and raw to make match-ups irrelevant. He'll need to be gigantic if New Orleans wants to have a chance to play another home game in this series.
The Adjustment:
"Shoot the ball better" might not qualify as an adjustment, but it's a change that's necessary for the Hornets, who hit just two of their 13 shots from outside in Game 3. When you're as badly outmatched in the interior as the Hornets are, the best remedy is to space the floor well, put your shooters in their high-efficiency areas and move the ball quickly to find open shots. Then, of course, knock them down. If New Orleans can get hot from outside, the Lakers will likely turn to a slightly smaller lineup to compensate and that could make life a little easier on the glass for the Hornets. But if those shots aren't falling? Same old story.
The X-Factor:
Before Game 3 we tried to pin New Orleans' hope on either
Willie Green
or
Jarrett Jack
, but the combination promptly went out and combined to shoot 1-10 and score just two points in the loss. Rather than repeat that mistake, let's just say that ANY Hornets player under 6'7" not named Chris Paul needs to score in volume in Game 4. Whether that's
Marco Belinelli
making up for his 1-7 shooting from outside,
Trevor Ariza
shocking everyone with some nice scoring output or Green and/or Jack finally deciding to show up, the Hornets need a third weapon to complement Paul and Landry. And, to offset
Kobe Bryant
, who outscored Paul, Belinelli, Green and Jack combined in Game 3.
The Sticking Point:
Even if New Orleans does everything right -- competes on the boards, knocks down their outside shots, gets a huge night from Paul -- there's still the Kobe Bryant factor to contend with. Bryant hit for 30 in Game 3, including some back-breaking three-pointers that kept New Orleans at bay. His individual performance forces the Hornets to commit so much defensive attention to him that life for
Ron Artest
,
Lamar Odom
and
Derek Fisher
is just that much easier. All three of those guys shot 50% or better from the field in Game 3 and should have plenty of clean looks in Game 4 as well. It's a pick-your-poison type of situation for the Hornets, who we know won't go down without a fight.
Still, this one is far less about their effort level and far more about L.A.'s. If the Lakers show up, this series will be entering its final chapter.