The Mavericks look to regain control of the series in Dallas after the Trail Blazers escaped Portland with two wins. Posted by Ben Golliver.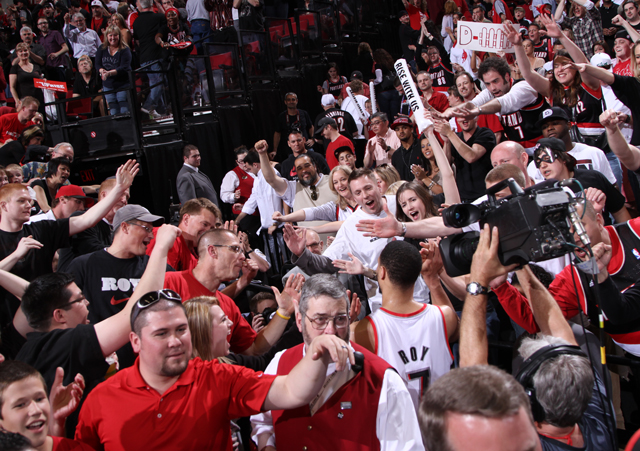 The Narrative:
Brandon Roy
and the Portland Trail Blazers left the Rose Garden court as heroes, having defeated the Dallas Mavericks in both Games 3 and 4, and evening their first-round playoff series at two games apiece. While Roy was able to breathe new life into Portland's season, which seemed on the brink after Games 1 and 2 in Dallas, his
monumental fourth quarter explosion
in Game 4 didn't change the fact that Portland still needs to steal a game in Dallas if they want to advance to the second round for the first time since 1999-2000.
The Hook:
The eye-popping boxscore numbers from Game 4: 10 total free throw attempts for Dallas, four free throw attempts for
Dirk Nowitzki
, three fourth-quarter points for Nowitzki. You can be sure that all of those will look quite different in Game 5. The Mavericks inexplicably went away from their All-Star forward down the stretch and there's no way Nowitzki, who dominated the fourth quarters in Games 1 and 2, will let that happen again.
The scary thing for Portland is that Nowitzki, despite leading Dallas with 26.5 points per game in the series, hasn't yet found his stroke. He's shooting just 41.3% from the field after shooting 51.7% on the season. Credit the Blazers defense for making him work but Nowitzki has also simply missed some shots. In a tipping-point Game 5, all eyes in Texas will be on Nowitzki to deliver his biggest performance of the series.
The Adjustment:
Dallas Mavericks coach Rick Carlisle took the blame for the Game 4 loss, admitting that he didn't make the proper adjustments down the stretch to stop Roy's 18-point fourth quarter tear. Carlisle was content to let Roy operate in single-coverage and
Shawn Marion
didn't stand a chance.
CSNNW.com thoughtfully argues
that Roy can't expect that same treatment in Game 5.
But if I were coaching the Trail Blazers I'd be real sure I didn't even think about loading up on a bunch of Brandon Roy isolations for tonight. We've seen that in the playoffs before and it wasn't sustainable, even with Roy at his all-star best.
That's what makes tonight's game so intriguing. I think Roy may have gotten enough confidence back to play well for the rest of the playoffs. But I'm also sure he's done enough now that Dallas will game-plan for him, which obviously, in spite of what they say, they had not been doing.
They will double-team him, pressure his ball-handling and get physical with him. He won't have it easy.
Portland has largely been carried by power forward
LaMarcus Aldridge
, but they have also needed every last Roy basket in Games 3 and 4 to pull off the wins. Dallas has no choice but to adjust to better contain Roy. Which of Portland's auxiliary options --
Nicolas Batum
,
Wesley Matthews
or
Rudy Fernandez
-- is ready to step up?
The X-Factor:
This series will almost certainly be decided on turnovers. Prior to Game 3, we noted that the Portland Trail Blazers were 7-0 in their last seven games at home against Western Conference playoff teams and enjoyed a +5.2 turnover differential in those seven games. That number is now 9-0 following Games 3 and 4, in which the Blazers were +7 (16-9) in Game 3 and +4 (14-10) in Game 4.
Unfortunately for Portland, those numbers are flipped on the road in recent months. Going back to Jan. 1, 2011 (including Games 1 and 2), the Blazers are 1-7 against Western Conference playoff teams on the road, with the only win coming against the San Antonio
Spurs
when coach Gregg Popovich decided to rest
Tim Duncan
,
Tony Parker
and
Manu Ginobili
. In those games, Portland has been outscored by an average margin of 94-88. Portland has shot slightly worse from the field (45.9% to 45.0%) and from deep (35.4% to 32.8%) while keeping the rebounding battle even at 39 boards per game. However, the Blazers are -1 in these games when it comes to turnover differential, averaging 12.3 turnovers per game while their opponents committed just 11.3.
That represents a six-turnover swing in differential from Portland's success at home. It's difficult to see Portland winning on the road unless that trend can be halted.
The Sticking Point:
Are there fissures developing in the Big D? Mavericks coach Rick Carlisle
called on his fans
to step up. Mavericks center called on Carlisle to step up
his coaching game
. At the end of the regular season, guards
Jason Terry
and J.J. Barea got into a bit of a sideline tiff. Terry also shoved down
Lakers
guard
Steve Blake
during a blowout loss, sparking a minor melee between the teams.
The question from all of that: Are these isolated incidents or evidence of some cracking under pressure, whether its from this series or the weight of previous failures? The final whistle following the Game 4 collapse had barely sounded before the "Same old Mavericks" line of thinking was circulating again. Despite the distractions, this remains a heady veteran group led by Nowitzki and
Jason Kidd
. Game 5 is the time for them to respond; the prospect of Portland playing a close-out Game 6 at the Rose Garden is surely daunting.