Gilbert Arenas can't save the Magic. But can the Magic save themselves?
Posted by Matt Moore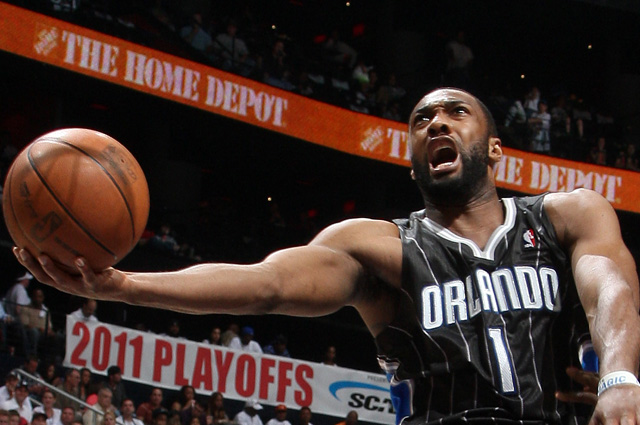 Gilbert Arenas was going to be the hero of Game 4 for the Magic. It was all there. Arenas scored 20 points off the bench on 9-18 shooting. The triumphant hero returns to save the day, and saving himself in the process. It really was all there. So even though the Magic lost that game, Arenas is going to get playing time in the next game after being DNP-CDs in the first two, right? According to SVG in the
Orlando Sentinel
, that's spot-on:
I'm not stupid!" Stan Van Gundy said after the Magic completed practice today.

"Yeah, he's going to get his opportunity again tomorrow. There's no question. I think that he played great. I've tried to say this in his defense all year: If you look, last night with J-Rich out, he knew he would get more extended minutes. So I think he plays more — I'm not going to say 'relaxed' — but more confidently that he doesn't have to worry that it's going to be a four- or five-minute stint.

"I'm not going to sit him out tomorrow after what he did. We'll see how it goes. We'll see what adjustments they make to his pick-and-rolls."
via
Gilbert Arenas: Stan Van Gundy says Gilbert Arenas definitely will play in Game 5 - OrlandoSentinel.com
.
No, SVG, you are not stupid. You may be desperate, though.
Arenas finished that magical game 1-5. He went to the layup off the pick and roll time after time, to his credit. But the
Hawks
' defense was also overreacting to
Dwight Howard
. Sure, if Arenas can continue to finish and get past the Hawks' defense, which will have
Zaza Pachulia
back, then maybe he can have a big game. But Arenas was also 1-3 from the perimeter. Gilbert Arenas isn't going to fix the Magic's perimeter shooting on his own, and unless that happens, the Magic are starting their vacation tonight. This isn't to say that the Hawks haven't had anything to do with the Magic's terrible perimeter shooting, they're running them off as well as a team can. Nor does it mean that a good shooting performance from the wings will automatically fix things and assure a win. But it has to be part of it.
More troubling, though, is the idea that Arenas can be the difference maker. He had a fine game. Maybe he has another one. But Arenas is never going to be the Agent Zero of old. Those days are gone, there's a tombstone that marks the era and everyone, Arenas included,
has to move on
. Arenas can be a competent role player, provide a spark, and help the Magic stave off elimination long enough to get the pressure back on Atlanta, a position that team is in no way ready to thrive in. That's all you can hope for.
The only thing that's saving the Magic is the Magic. They won as a team throughout this era of contention. The shipwrecked phrase, "Live together, die alone" comes to mind.