The New Orleans Hornets and Los Angeles Lakers head into Game 5 tied at 2 games apiece. Posted by Ben Golliver.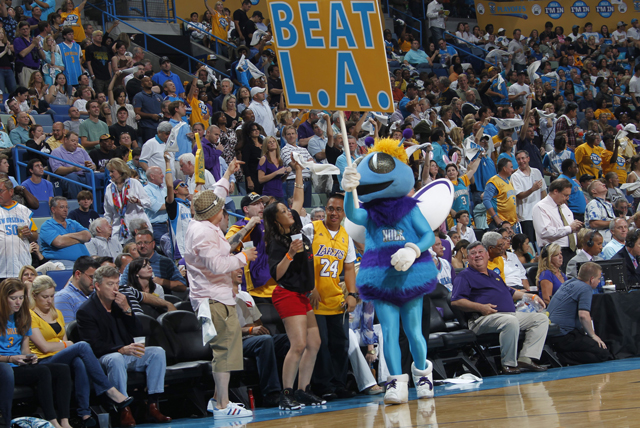 Is it panic time for the Los Angeles Lakers? Not ... quite ... yet. But there are certainly reasons for it to feel that way, as their playoff series with the New Orleans Hornets is tied 2-2.
The biggest reason, of course, is
Chris Paul
's electric brilliance and will. Paul has engineered two wins so far this series, breaking down L.A.'s defense off the dribble and stubbornly carrying his team through Laker runs, imbuing a relatively weak supporting cast with confidence in the face of L.A.'s size and skill.
The second biggest reason is the status of
Kobe Bryant
's sprained ankle. As of Tuesday, Bryant was
refusing tests on the ankle
and saying that he would play in Game 5. Bryant has shown the ability to adjust his shot while playing on a bum ankle, but it's his lateral movement on defense that is of larger concern. The Lakers have used him to bump and bother Paul, sometimes in full-court manner, and a bad wheel makes that process infinitely more difficult and painful. Paul made it clear he was
ready for war
with Bryant in Game 4 and surely Bryant is up to the challenge. How will playing with pain affect his decision-making and shot selection? Will Lakers coach Phil Jackson adjust his minutes in any way, or use it as an excuse to pound the ball inside more often, particularly early?
Any time you're dealing with a superstar you struggle to stop, as well as an injury to your own superstar, it's enough to raise the blood pressure. But L.A. has won twice in this series already, still possesses home court advantage and can take solace in the fact that superhero efforts don't come along every night.
Indeed, this series has been as much about players 4-10 as it has been about Paul vs. Bryant. During the Hornets wins, New Orleans' bench averaed 28.5 points per game (a figure propped up a bit by a monster Game 1). During Lakers wins, New Orleans' bench averaged 11 points per game. Hornets shooters --
Marco Belinelli
,
Willie Green
and
Jarrett Jack
-- are the definition of "hot or not." They've proven to be inconsistent through four games. It's possible, if not probable, they could prove to be unreliable over the next three, despite Paul's best efforts to make their lives easy.
Similarly, L.A.'s bench has been up and down this series, although the peaks and valleys aren't as steep. In Hornets wins, the Lakers bench is averaging 19.5 points per game. In Lakers wins, L.A.'s bench is averaging 23.5 points per game. The headliner in those numbers is, of course, Lamar Odom, who presented New Orleans with a lot of problems in Games 2 and 3, but simply couldn't buy a basket in Game 4. Plus, he wasn't consistently assertive enough to make up for it at the free throw line, on defense, or on the glass. A return to form from Odom would go a long way to easing the burden on Bryant, and his ankle. It would also likely push New Orleans to the brink.
And that's why it's not yet panic time. If the choice is between expecting Odom to bounce back at home and crossing your fingers that Belinelli, Green and/or Jack show up on the road, you'd pick "Option A" every time. So it's not yet panic time, but there's no longer any margin for error or room for excuses.