The Houston Rockets will reportedly interview Kevin McHale and Sam Cassell for their head coaching position. Posted by Ben Golliver.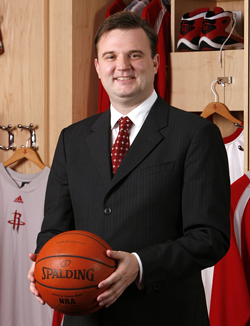 Last week, we noted
that the Houston Rockets and former coach Rick Adelman mutually agreed to part ways, a sign that the team is ready to enter a rebuilding phase. It takes the right personality to lead a young team through a rebuilding process, as going from lottery team to playoff team can often be a process that spans multiple seasons in the NBA.
Based on the early reports, the Rockets and GM Daryl Morey have clearly decided to evaluate all of their options in finding the right person for that position.
Yahoo! Sports reports
on Tuesday that TNT commentator, former Minnesota
Timberwolves
coach and executive, and Hall of Fame Boston
Celtics
forward Kevin McHale will be granted an interview.
Kevin McHale will interview for the Houston Rockets coaching job, league sources told Yahoo! Sports.
The Rockets and McHale are still working on setting a date for the meeting, presumably around McHale's playoff broadcasting responsibilities, a source said.
MyFoxHouston.com also reported
on Tuesday that the Rockets would interview former Rockets point guard and current Washington
Wizards
coach Sam Cassell as well.
Add former Houston Rockets guard Sam Cassell to the list of candidates who will interview to become the Rockets next head coach.
League sources told FOX 26 Sports Cassell will meet with Rockets officials next week.
Meanwhile,
the Houston Chronicle has reported
that Milwaukee
Bucks
assistant coach Kelvin Sampson, Rockets assistant coach Jack Sikma, former Rockets forward Mario Elie and former Atlanta
Hawks
coach Mike Woodson are among the names under consideration.
Given the circumstances, an NBA lifer with a track record of losing like McHale, whose career record is 39-55, would be a disaster. Retreads and rebuilding are just a bad combination; coaches in these situations should inspire a fanbase, not demoralize it.
Morey is statistically-inclined, so you can be sure whoever he decides upon will at least be open to advice from upstairs. Really, the Rockets are better off seeking a dynamic fresh face with the ability to develop the team's young players and whose act hasn't yet grown tired. Tom Thibodeau, Monty Williams, Erik Spoelstra and Frank Vogel are four coaches who fit that profile and have guided their respective teams to the playoffs this season.
There's a little bit of a youth movement going on in the NBA coaching ranks, and the Rockets would be wise to get on board that ship.