The Golden State Warriors reportedly part ways with coach Keith Smart. Posted by Ben Golliver.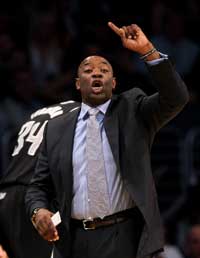 Update:
CSNBayArea.com reports
that the Warriors have indeed decided to part ways with coach Keith Smart. Smart signed a two-year contract last fall with a team option for 2011-2012. That option, the site reports, will not be picked up.
The team also
issued the following statement
.
"It's never easy to make difficult decisions, especially when it involves someone that we have a great deal of respect for like Keith Smart," said Warriors Owner Joe Lacob. "After meeting extensively with Larry Riley and Bob Myers, we came to the conclusion that a change was necessary at this particular time. I think Keith did an admirable job this season and he should be commended for many of the positive things that transpired both on and off the floor. The team showed improvement and their effort was never in question. However, we've elected to pursue a new path and we wish Keith the very best. He's a quality person and we thank him for the time he invested with our organization."
CBSSports.com's Ken Berger has
more on the decision
.
Original Post:
The first year of the post-Don Nelson era in Golden State didn't end in abject failure, but it also didn't end with a trip to the playoffs. New Warriors owners Joe Lacob and Peter Gruber have repeatedly made public their intentions of turning the team into a perennial winner.
Now that the season is over, the question is whether head coach Keith Smart will be a part of that building process. It's not looking promising: the
Oakland Tribune
reports Wednesday that Smart's tenure
could end this week
.
A team source said a decision is expected within the next two or three days, while another source "wouldn't be surprised if he's let go (Wednesday)."
Larry Riley, recently named executive vice president of basketball operations, said on April 15 that the Warriors would begin evaluating Smart in eight or nine days, which would have been last weekend.
New owners in any sport always want "their guy." In this case, Smart served as a solid bridge last season given the timing involved in the Warriors purchase. He knew the players, had a system and was given the opportunity to prove he was the man for the job long-term.
Smart's first season on the job produced 36 victories, an improvement over the team's 26 in 2009-2010 and 29 in 2008-2009. But the Warriors invested some serious coin in forward
David Lee
and expectations were raised with that signing.
The problem, as always for the Warriors, was defense, where the team ranked No. 26 in efficiency. The offense wasn't all that either, ranking No. 12 league-wide. On both sides of the ball there are ongoing questions about whether guards
Monta Ellis
and
Stephen Curry
-- who are both undersized and need the ball in their hands to be most effective -- are a good match going forward.
If there's one real knock on Smart, it's that Curry didn't take more of a leap forward in his second season. While his scoring numbers were slightly up, his assists and turnovers remained virtually identical to his rookie season. More progress on that front likely could have resulted in a new contract.
Should the Warriors do decide to let go of Smart, it will be interesting to see which direction they go. Given that all three of their best players -- Curry, Ellis and Lee -- are better on offense than defense, whoever it is will have his hands full. The temptation might be to go for a defensive-minded coach, but that could turn into a situation like Terry Porter's tenure in Phoenix, where the mentality didn't necessarily mesh with the pieces on hand.
More than Xs and Os, though, the Warriors seem to be looking for the right personality and culture fit. The team's new ownership have bent over backwards to connect with the team's fanbase. Does that mean they'll go for a splash hire? Not necessarily, but you can bet whoever is the coach next season will possess a marketability factor.