Miami Heat forward LeBron James compares closing out the Philadelphia 76ers to breakfast. Posted by Ben Golliver.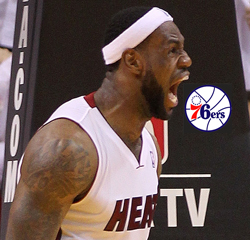 LeBron James and the Miami Heat are about to get eliminated by the Boston
Celtics
in the second round of the NBA Playoffs beginning next week, but that isn't stopping him from talking a little trash in advance of Game 5 against the Philadelphia 76ers.
The
Palm Beach Post
quotes James comparing closing out the 76ers to
a morning meal
.
When asked about whether the three days of prep — rather than one — would make a big difference, LeBron James said tonight was about this: "Just finishing our breakfast."
Continuing this logic, the Celtics become lunch, the Chicago
Bulls
serve as dinner and the NBA Finals would be Fourth Meal. James' breakfast line is heard in Jay-Z's
Public Service Announcement
and
attributed by the Miami Herald
to John Strickland, a friend of both James' and Jay-Z's.
In all seriousness, it's good to hear James so focused on the task at hand. There's nothing worse than an early round playoff series dragging out unnecessarily because the more talented team isn't totally locked in. (Loking at you, Los Angeles
Lakers
.) Just finish the deal so we can get to the real action.
Bottom line: the Heat should have swept the Sixers, and they know that better than anyone. In other words, tonight could get ugly. Look for the Heat to devour some scrambled Iguodala, a Brand muffin and maybe even a few Hawes cakes. OK, I'll stop. But only because you insist.