Posted by Royce Young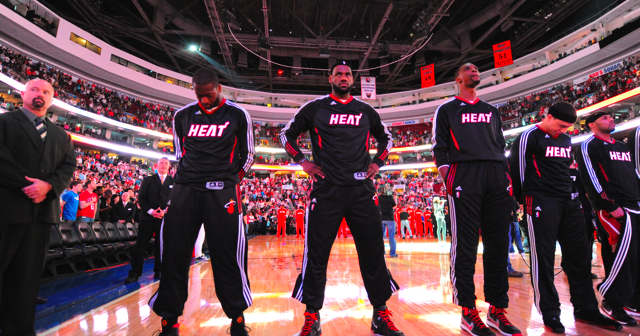 It's never a good idea to mess around in the playoffs. Not only do you open the door to actually losing the series if you let it go on longer than it should, but you risk injury, give up rest and maybe most importantly, preparation.
The
Heat
have an opportunity to close out the
76ers
tonight in Miami and while it's in their best interest to win for a lot of reasons, maybe the best reason is that they need an extra couple days. They need an extra couple practices to prepare. Because those
Celtics
are starting to look pretty scary again.
One guy has probably kept Erik Spoelstra and Pat Riley up deep into the night the past week and it's not
Troy Murphy
. With the way
Rajon Rondo
appeared to get his mojo back against the
Knicks
, he immediately becomes enemy No. 1 for the Heat. Not only do the Heat have no one to guard him, but well, the Heat seriously have
no one
to guard him.
Rondo dominated the first three games between these teams in the regular season, getting into the paint at will which opened up the entire floor to
Paul Pierce
and
Ray Allen
. He is the most dangerous man on the floor for the Heat. When Rondo is rolling, the Celtics are really good. They're tough for anyone to beat. But for Miami? It's darn near impossible.
Which is a pretty good reason to go ahead and wipe their hands clean of Doug Collins' energetic young bunch. Basketball isn't necessarily like football where you can spend hours watching game tape and developing a strategy for stop another offense or break an opposing defense. Basketball isn't a game for Bill Belichick.
But there is something to be said for preparation. Having a few days just to clear the mind of all the Synergy stats your coaching staff pounding in to your head about
Lou Williams
and
Jrue Holiday
and move on to Rondo is huge. Now the Heat can forget things like "When Holiday takes two dribbles with his left hand with 16 on the shot clock and opens his mouth, he's 72.8 percent likely to pass to
Andre Iguodala
" and start thinking about how Rajon Rondo could possibly kill them.
It's about getting your mind right. Forget the film study and walkthroughs. Just having a few days to mentally prepare and think about what a series it will be against Boston is more important than you think. The rest, the preparation, the confidence -- all that matters. Every little bit. When you're going into a series against a team like the Celtics, any little edge, no matter how small, is important.
Wasting time moving on is bad for a lot of reasons for the Heat. But having the Celtics on the horizon might be the best motivation for finishing this off. The Celtics have already handled their business. They're waiting for the Heat. You don't want to keep them waiting for too long.