The Orland Magic will retain head coach Stan Van Gundy and GM Otis Smith for the 2011-2012 NBA season. Posted by Ben Golliver.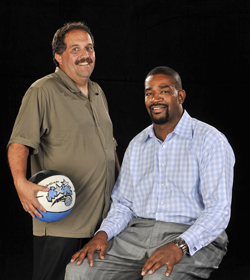 'Tis the season for coaching changes, especially when playoff teams don't reach lofty expectations. The Orlando Magic, though, is adament that its key basketball personnel will be back next season.
The Magic sits on the precipice of disappointment, trailing the Atlanta
Hawks
3-2 in their first round series. The team entered the season with championship aspirations, made a roster-flipping midseason blockbuster trade and were regarded as heavy favorites coming into their series with the Hawks.
Despite sitting one game from elimination, Orlando Magic CEO Bob Vander Weide issued a public show of support for coach Stan Van Gundy and GM Otis Smith
to the Orlando Sentinel
.
"We're happy with Otis and Stan," Vander Weide said. "Neither are in jeopardy. I've been around now 20 years in the NBA and I've got a good idea of other people's skill-sets are out there, and Stan and Otis are as good a complement as any in the league."
The Magic's struggles against the Hawks, plus their slide to 52 wins this season after two questionable mid-season trades, drew speculation about job security for Van Gundy and Smith --- Smith in particular.
"You can second-guess, but the changes we made were made to win a championship," Vander Weide said. "We didn't feel we were going to win with the guys we had."
Van Gundy has guided the Magic to the playoffs and won 50+ games for four straight seasons, including a trip to the NBA Finals in 2009. That track record more or less speaks for itself.
The Magic are faced with a franchise-defining moment in the relatively future: Can they convince center
Dwight Howard
to sign an extension? Besides the obvious benefits that go with maintaining stability and familiarity, keeping Smith along with Van Gundy is smart for two reasons.
One: Smith knows Howard and has a far better chance of selling him on the Magic than any newcomer could, given the benefit of their shared history. Two: if Howard decides he wants to play in a bigger market or to team up with other superstars, Smith has a proven track record for not blinking when it comes to making big deals. Trying to picture Danny Ferry trading
LeBron James
? Impossible. Trying to picture Smith trading Howard? Definitely not impossible.
In other words, Smith is poised to be an asset to his organization whether Dwight Howard becomes the next
Dirk Nowitzki
or the next
Deron Williams
. He's smart and experienced enough to realize that this is a business, and he's dealt with Howard for long enough to establish a relationship that will keep the negotiating and closed-door conversations where they belong: out of the media.
Perspective is also important here. While the Magic took a step back this season -- winning 52 games, seven less than the last two seasons -- this is still the golden era of Magic basketball. This is the only time the team has won 50+ four times in a row and there's nothing standing in the way of this group doing it again next season, save a work stoppage.
Surely, roster changes are needed and expected. But stability has value, especially in Orlando right now.