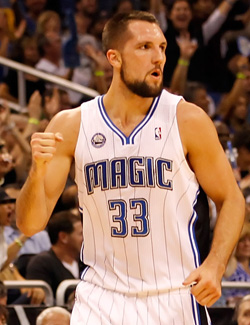 Hawks try to close the Magic out, but if Orlando can stay warm from the outside, they'll force a Game 7.
Posted by Matt Moore
One Big Thing:
The Magic have to stay hot from the perimeter. This series really does come down to shooting percentages. Everything else evens out, even Dwight's impact inside, marginalized by the work of
Josh Smith
,
Al Horford
and the Atlanta bigs. It just comes down to whether the 3-point barrage from Orlando can hold up. That's what this game, and this series, will be decided on. Seems simple, because it is. Make shots, and Orlando's going to push this to seven.
The X-Factor:
J.J. Redick
wasn't bombing from deep in Game 5, but he was doing work off the dribble. Yes, little J.J.'s all grown up. The Magic need a ball-handler who can score off the bench whose name isn't a grill and whose knees haven't been through multiple surgeries in four season. Redick was hampered by injury at the end of the regular season and start of this series. He looked back to his old self in Game 5. That holds up, and that takes the sting out of
Jamal Crawford
, the real eternal X-Factor in this series.
The Adjustment:
The Hawks have to get back to what worked in the first four games: running off 3-pointers, doubling, and recovering. All the damage the Magic did inside compounded the outside and vice-versa. The Hawks aren't going to improve on offense. They're going to have more bad possessions than good. But defensively, they spark fast breaks, which is where their best ball-movement comes from. Letting the Magic fire away will guarantee the Hawks suffer the ignominy of losing a series they were up 3-1 in.
The Sticking Point:
The Magic really showed they were a better team when the shots were falling in Game 5. That has to put the fear of God into Atlanta. If the Hawks don't get a break and have the Magic miss a few early ones, Atlanta could come undone. This is a deciding game in this series, and not just because the Magic remain on the edge of elimination. A loss and the Hawks enter full-on meltdown mode. Just like that, a series that looked to be theirs can wind up firmly in Orlando's grasp.