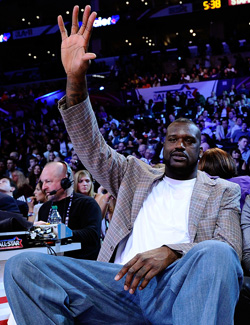 Shaq reportedly will practice Friday, may play Sunday. Sun may also explode, cats and dogs may also live together.
Posted by Matt Moore
Shaquille O'Neal
, a 7-1, 325 lb. center with the Boston
Celtics
(allegedly),
will reportedly practice Friday with the team
in advance of Game 1 vs. the Miami
Heat
on Sunday. If things go well in that practice, O'Neal may make his playoff debut with the Celtics, marking the first time we've seen him in Green since what feels like the Eisenhower administration.
There have been reports that O'Neal is done for the year with his injury and the team is preparing to go through the playoffs without him, which the team responded to swiftly with denials. So swiftly that it almost felt like an assurance he was in fact through. Or maybe that was us just not wanting to talk about whether or not O'Neal will play, since he's a 39-year-old center who played in 37 games this season for 20 minutes a night and averaged 4.8 rebounds while taking 5.4 shots.
O'Neal could be a huge factor against the Heat, overwhelming the plucky young
Joel Anthony
underneath and limiting his ability to make hussle plays by blocking him out like the mountains block the sun. Then again, he could go through practice, look slow and out of shape (or 39-years-old) and not play.
But we'll all pretend like this is a big deal, anyway!