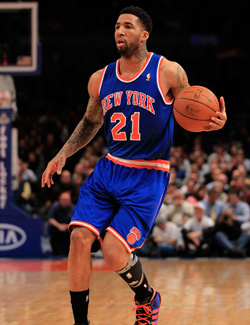 Wilson Chandler is a restricted free agent this summer. Could he return to the Knicks?
Posted by Matt Moore
Wilson Chandler was pretty comfortable in New York. He had the whole New York thing going on, he was a featured part of the offense, he had some chemistry with his guys and Amar'e. Then Donnie Walsh James Dolan Isiah Thomas came along and ruined all that, shipping him as part of the kitchen-sink package for Melo. Chandler's going to be semi-available this summer once the CBA gets sorted out, though, and the Knicks are reportedly interested in bringing him back in. From the
New York Post
:
Chandler, who was dispatched to Denver in the Carmelo Anthony trade, will be a restricted free agent, and a source said he would love to return to the Knicks. And the Knicks would love to have him back, as coach Mike D'Antoni believes he's the perfect versatile fit for his system who does so many things, including rebound. Chandler's Nuggets trail Oklahoma City 3-1 in the first round.

Chandler's new agent is Happy Walters, who also represents Amar'e Stoudemire and Knicks surprise reserve standout Shawne Williams, also a free agent whom the Knicks would like to bring back.
via
Chandler may come back to Knicks - NYPOST.com
.
Chandler is a versatile wing who had a 54 percent True Shooting percentage this year, even after the drop when he came to Denver. He took to Mike D'Antoni's system, can work off-ball and as a ball-handler, and is only 24 next season. Bringing him back would be a big boost for the Knicks. It's surprising that Chandler didn't take the trade more personally, though. He lived through the end of the Isiah reign, dealt with inconsistency in his role and kept coming back and playing, only to succeed, and then be traded. Coming back would mean more time spent as a third banana to Melo (Melo takes up two banana spots) on the wing.
But hey, it is New York, after all.