Where the series stands before Spurs and Grizzlies Game 6.
Posted by Matt Moore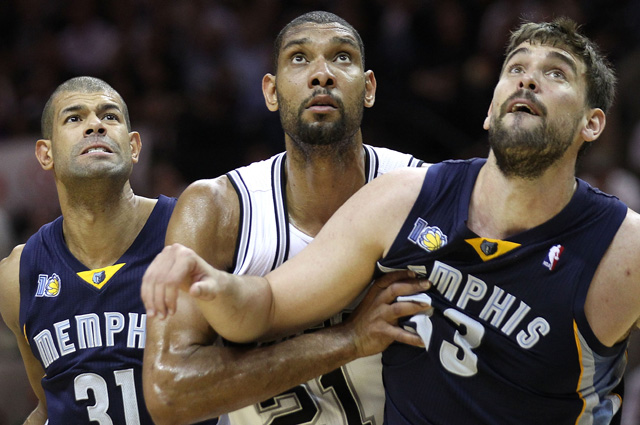 One Big Thing:
How do you respond after a game like that? How does Memphis possibly pick themselves up off the floor after being a blown goaltending call, a Manu desperation step-back off a broken play,
and
a
Gary Neal
leaning, game-tying three away from winning their first playoff series in franchise history? The Grizzlies have handled every charge the Spurs have thrown at them and responded. Their mental toughness, as an 8th seed, has impressed everyone. But how they respond to the suckerpunch they suffered in Game 5 may determine whether the Grizzlies' season ends in a heroic upset or an unbelievable collapse.
The X-Factor:
Sam Young
is turning into a pretty good player. When Young is rebounding, attacking the rim, and playing off the catch-and-shoot, he's a major asset. When he's trying to create off the dribble, turning the ball over, and committing unnecessary fouls, he's a considerable liability. So, the question is, which Sam Young will show up? Young wasn't expected to be a factor this season, or in this series. But, with his size and speed on the wing, he's become a problem for the Spurs. A strong performance from young could turn a close game into a big Grizzlies' lead, as was the case in Game 4.
The Adjustment:
The Spurs are used to having the big advantage with
Manu Ginobili
and
George Hill
's speed on the wing. The Grizzlies have flipped that advantage on its head by posting both players when matched up against
Shane Battier
. Battier's not known for his post-work, but then he's usually not matched up against players as soft as those two. Battier's ability to punish both of the shifty wings physically has worn on the Spurs. Both players have the speed to get around Battier into the soft underbelly of the Grizzlies' help defense. But Battier's post defense forces the double, creates passing lanes and opens the offense for Memphis. It's a rather genius move from Lionel Hollins who continues to look one step ahead of Gregg Popovich.
The Sticking Point:
There have been 20 quarters played in this series. The Spurs have won more in the box score, the Grizzlies have won more in the quality-of-play department. This has been an exceptionally close series, despite the Grizzlies' control in the wins column. The Grizzlies have never won an elimination game. The Spurs haven't won a game in Memphis yet in this series. But a win on Friday puts an enormous amount of pressure on the Grizzlies to win a road Game 7. It's do or die for the Memphis Grizzlies Friday night.