Posted by Royce Young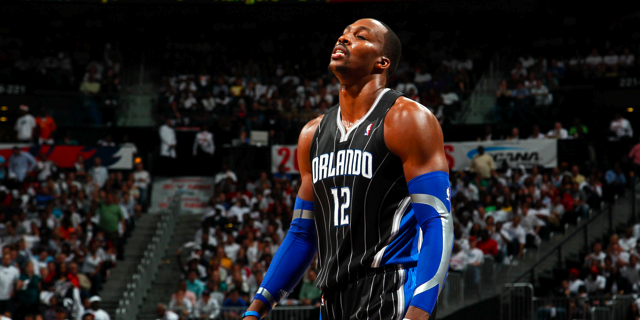 With the way the
Magic
went down in flames to the
Hawks
in six games the opening round, it was inevitable. Forget questions about Stan Van Gundy and general manager Otis Smith's future.
It's all about
Dwight Howard
.
Clearly the focus is on Howard because he is to be a free agent in 2012 and with the way the Magic appear to be stuck in sand right now in terms of getting to a championship caliber, most see Orlando's clock as ticking. And with this failure, it's like someone pulled the wrong wire on a ticking bomb and the timer just started moving double-time.
But give Howard some credit. He's trying to squash all this rumor talk about his future. He's said every right thing. He's said he loves Orlando. He's said he's not focusing on anything but the present. I for one, believe him. There's a natural comparison to LeBron for a lot of reasons, except for the fact Howard and LeBron are different people. They have different motivations, different ideas, different personalities.
So Howard is going on the rumor killing offense right now.
As he told the Orlando Sentinel:
"There's no need for me to comment on it. So, you know, let's not even talk about it. There's no need to bring it up. Right now, I'm going to figure out how can I get myself better for next season, not about what team I want to play for. But right now I'm with the Magic, so all the speculation can stop. There's no need to talk about it."

Nice try, Dwight. But you know that's not going to put any kind of end to it. Otis Smith already tried to make it extremely clear that he wouldn't be Melo-ing Howard and trading him to avoid him walking. Smith has said he's prepared to take the chance of letting him make his choice.
Howard though, wasn't done with his offensive on the rumors.
According to HoopsWorld,
Howard singled out Ric Bucher of ESPN who has passed along things like Howard wants to go to the
Lakers
, among other things. Howard straight asked Bucher, "Where am I going, so I can tell my agent and my family?"
The sad part is, if Howard's frustrated with this now, it's only going to get worse and worse they closer the clock to 2012 ticks to. This isn't a bad Roland Emerich movie. July 1, 2012 could indeed be armageddon for the Magic franchise.
It must be noted though, Howard
could
put an end to all of this speculation right now by signing an extension. The offer is there and if he wanted to, he could re-up with the Magic. I don't blame him for not because why not let this play out and see what happens? Why not get another look at the direction of the franchise next year? But it needs to be mentioned that Howard could stop it tomorrow.
Other teams like the
Knicks
,
Celtics
,
Nets
and Lakers appear to be positioning to pounce on Howard. We all want to know right now what's going to happen because that's our nature, but here's one thing we do know: Howard will be playing at least one more season in Orlando. And he'd like it very much if we all just kept that as the focus.