Posted by Royce Young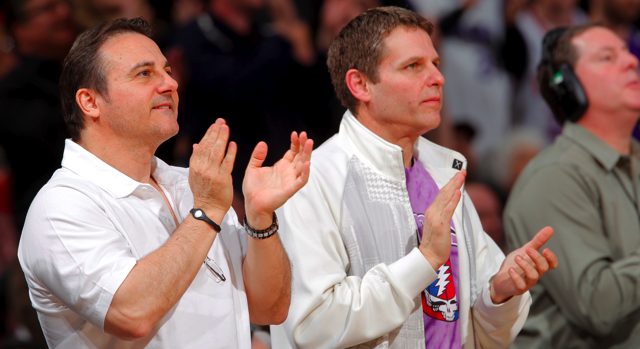 Despite an incredible grassroots effort from the city of Sacramento and even
a recommendation from the NBA
that the
Kings
remain in California's capital at least one more season, the Maloof brothers are determined to press on with their proposed move to Anaheim.
As dumb as the move may be -- that's a discussion for a later time -- the Maloofs are pulling out all the stops. Including trying to muzzle Laker coach Phil Jackson. Seriously.
Last week Jackson was asked by reporters about the Los Angeles Dodgers' situation where Major League Baseball assumed control of the franchise from owner Frank McCourt. And Jackson used it as an opportunity to zing the Maloofs.
"Oh, man. I think it's the same thing with the Maloofs in Sacramento, a similar situation there. I can see where the league had to step in and monitor that. It's unfortunate for our fans here. Hopefully, the Dodgers will recover."

Laker owner Jerry Buss has already made it clear he's opposed to the Kings relocating to Anaheim, for obvious reasons (read: money). And with Buss's position clear, Jackson has become sort of a de facto spokesperson for the Laker organization in matters pertaining to the Kings. But the Maloofs didn't appreciate the mud slung by Jackson, so what did they do? They lawyered up!
Via the Orange County Register:
The owners of the Sacramento Kings sent a representative to Brea Friday morning in an attempt to gather proof of what they perceived to be negative comments by Lakers coach Phil Jackson about their proposed move to Anaheim.

Jessica Mackaness, an attorney representing Joe and Gavin Maloof, showed up at my house to try to persuade me to give her a tape of Jackson making a comment about the Kings' efforts to relocate. Mackaness said the Kings' owners planned to turn over the tape to the NBA and Lakers in an effort to stop Jackson from making further comments.

However, the Register declined to turn over the tape. As a matter of policy, the Register does not release unpublished material gathered in the reporting of stories.
Oh. Good. Grief.
(Two things: 1) Geez Maloofs, tattle much? And 2) Why do they need the actual tape anyway. Do they think the Register made up the quote? Couldn't they just pick up that days issue or use the handy little "print" button on that story? I don't get it. Then again, I don't get any of this story.)
(Oh and a third thing I just thought of: So the Maloofs want Phil Jackson censored. Is that how I'm understanding this? They don't want him allowed to talk about this matter anymore? Are they really suggesting Jackson doesn't have the right to free speech when it comes to the Kings' relocation? Just checking.)
Jackson has just made the points we all see. (Well, even excluding three specific brothers.) It's
stupid
to put another team 45 miles away from the
Clippers
and Lakers. The Lakers hate the move because they could lose as much as $500 million in TV money form Time Warner if the Kings move. The Kings won't have a fanbase there. There's nothing that says they can make money there. The league isn't in full support. Other owners aren't in full support. This list seriously goes on and on and on.
Hammering it home even better than I,
Jackson told SI.com this last week:
"I don't see any community, I don't care if it's Bombay with 25 million (people), being able to support three teams (in the same market)," Jackson said. "I know Istanbul does it with three soccer teams, and England does it in London with three soccer teams in the surrounding area, but it makes it very difficult in our community and our television area to do that kind of a thing. It will hurt all the franchises."

No word on if the Maloofs sent their attorney to SI to try and seize their website.
Via BDL