Posted by Royce Young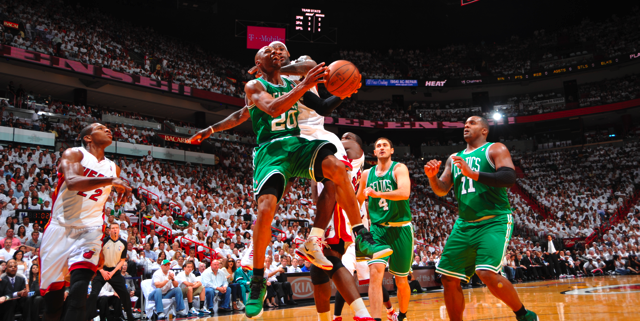 Saturday, May 1, 2010. The Boston
Celtics
drop Game 1 to the Cleveland
Cavaliers
103-96 after a dominant second half in which the Cavs outscored Boston 58-39.
I remember all the reaction after it. LeBron has done it. The Cavs are different. These Celtics are vulnerable. The guard is changing. I remember all the chatter, all the reaction, after
Game 1.
And what happened next? The Celtics went on to finish LeBron, and the Cavs as we know them, off in six games.
Now. I'm not at all inclined to say the same fate is awaiting LeBron and his new team after their 99-90 win over the Celtics in Game 1 Sunday. And yes, I'm the same dude that just got through
writing about how Game 1 could decide this series
in the end. (Tone, statement, momentum and all that
Jazz
was my thinking there.) And I'm not saying it won't.
But let's pump the brakes on thinking at all that the Celtics are overmatched here. Maybe before we all say, "Looks like the
Heat
are
the superior team after all," we let Game 2 happen. This was played on Miami's home floor, remember. And they still have to replicate this three more times to get past Boston.
LeBron's Cavs weren't able to do that. The Celtics are masters of adjustment, and will have a little something different Tuesday. The goal for any road team in the first two games is to win one and claim homecourt advantage. And that opportunity is still there for the Celtics.
A big reason LeBron made the switch to join
Dwyane Wade
is precisely what happened Sunday against the Celtics. He had a great deal of help, and the Heat were able to put it to the Celtics on both ends.
Rajon Rondo
didn't control the game and save for some spectacular-but-normal-for-him shooting from
Ray Allen
, Boston stayed close. Other than that, the Boston offense stalled. The Celtics didn't get to the free throw line (just 18 attempts), shot just 42.7 percent and only had three players in double-figures. Rondo's line -- eight points and seven assists -- really says it all.
It also says to me that the Celtics didn't play their best game. It does feel like there has been a shift in this matchup from the control Boston had in the first three meetings. It does feel like the Heat have found some confidence and swagger against the Celtics. But it also doesn't feel like this series is even close to over. You know that, and I'm insulting your intelligence by telling you, but I feel like I need to say it.
I picked the Heat to win in seven games, and my mind hasn't really changed much from that. The Heat held serve on their end because of 38 from Wade, 22 from LeBron and 25 from...
James Jones
? See, just that part alone should make Celtics fans feel a bit better. That's not happening again.
Again, I said myself how important this game was. Much more so for the Heat. Lose Game 1 and whoa boy, are they hearing about it. Lose Game 1 and now the Celtics are playing with house money. Lose Game 1, and it's very likely the Heat are in a hole that, mentally, they can't get out of.
They didn't though. They took care of business. But I think the Heat would admit, the Celtics can, and will, play better. It's a four-point game and the Heat scored the first point. I can promise you, Doc Rivers isn't panicking. Neither is
Paul Pierce
, Allen or
Kevin Garnett
.
But Game 2 is where the Heat are going to have to make their money. LeBron's Cavs conceded in that situation last year, and it ended up costing them. Boston took its talents to South Beach with a hope to win two, but with a goal to take just one. That opportunity is still there. And it comes down to Tuesday night. After that, maybe we'll be able to draw a real conclusion or two.