A preview of the first round playoff series between the Los Angeles Lakers and Dallas Mavericks. Posted by Ben Golliver.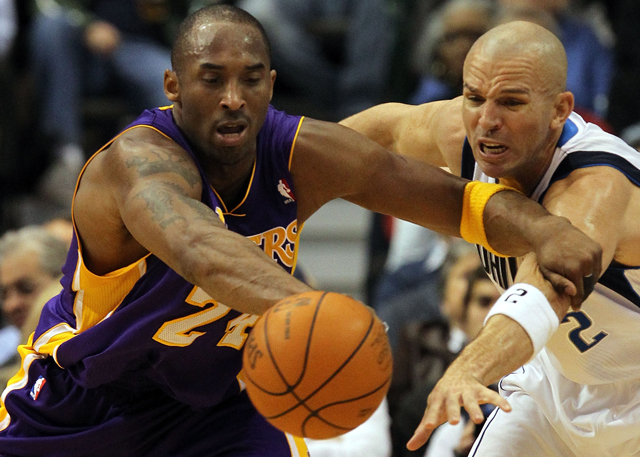 I. Intro: No. 3 seed Dallas Mavericks (57-25) vs. No. 2 seed Los Angeles Lakers (57-25)
For the first time in the Dirk Nowitzki era, these two long-time Western Conference powers will face off in the playoffs. The Mavericks arrive in the Western Conference semifinals after knocking out the Blazers in six games. The Lakers are here by virtue of dispatching the New Orleans Hornets in six games. Both teams are among the oldest in the league, sporting cores that have been through playoff fires together. (Obviously the Mavericks have been burned a bit worse than the Lakers).
The Lakers and Mavericks were similarly effective during the regular season, winning 57 games and putting up very, very similar efficiency numbers. The Lakers were No. 7 on offense and No. 6 on defense while the Mavericks were No. 8 on offense and No. 7 on defense. The teams even played exactly the same pace during the regular season, slightly below league average.
The Lakers, however, were a marginally better rebounding team and a significantly better team when it comes to taking care of the ball. Dallas enjoyed one major advantage: they lead the league in assist rate, meaning that no one scores a greater percentage of their points directly from passes. That offensive balance is key as the Mavericks generally have four scoring options on the court at all times and do a nice job of maximizing those players' skills.
The difference between these two even-on-paper teams could very well wind up being L.A.'s star talent. The combination of Kobe Bryant / Pau Gasol / Andrew Bynum / Lamar Odom is a vicious four-headed monster for Nowitzki to fight off with a supporting cast that is a fairly motley crew at this stage of their careers.
II. What Happened: A look at the season series
The Lakers took the season series, 2-1, with all three games taking place since New Year's Day. Both Lakers victories came in March. The most recent one was a chippy 110-82 blowout victory at Staples Center that saw multiple ejections, including forward Matt Barnes for throwing Mavericks assistant coach Terry Stotts to the ground.
The teams split in Texas, where Dallas took a high-scoring 109-100 affair in January while the Lakers won a March grinder, 96-91.
L.A.'s homecourt advantage is a factor here, but both teams are equally capable of stealing a game in this series. Not only did these teams have identical regular season records, they were also very similar in their home/road split. The Lakers were 30-11 at home and 27-14 on the road; The Mavericks were 29-12 at home and a league-best 28-13 on the road. Both teams won on the road at least once during their first round series, including dual Game 6 close-out victories on the road.
III. Secret of the Series: Foul trouble
A critical determining factor in this series could be foul trouble, as the Lakers succeeded in pounding the paint over the course of their first round series against the Hornets. While Dallas has better bigs than New Orleans by a long shot, they aren't particularly deep in the front court. Center Tyson Chandler was regularly in foul trouble against Portland, a factor the Blazers weren't able to fully exploit because their own front court lacks depth and size.
The Lakers, on the other hand, are perfectly suited to making Chandler pay if he gets two or three quick ones. Gasol, Bynum and Odom are all capable scorers and Bryant can get into the paint when necessary too. If Chandler is able to stay on the court, the Mavericks stand a chance. If not, they'll be hard-pressed to rebound on both ends and prevent second chance points, and it will put an even greater burden on Nowitzki. Expect the Lakers to attack this positional weakness much more aggressively and directly than they did in round one.
IV. The Line-Item Veto: Who wins each match-up?
PG: Jason Kidd's three-point shooting and overall offensive orchestry was a major difference-maker in Dallas' series victory over Portland. Derek Fisher will gladly serve as the underdog in this match-up as long as he doesn't have to guard Hornets point guard Chris Paul again. Advantage: Mavericks.
SG: Despite all the talk about his ankle, Kobe Bryant surely looks healthy enough to enjoy great success here. The Mavericks are extremely weak at the two-guard spot, something they did well to overcome in their opening round series. DeShawn Stevenson and a ready-to-go Roddy Beaubois will set the table for sixth man Jason Terry, who came on strong late in the Portland series, but none are equipped to defend Bryant. Huge advantage: Lakers.
SF: Shawn Marion was perhaps Dallas' most pleasant surprise in round one as he neutralized Portland's potential X-factor, Gerald Wallace, while also chipping in on the boards and with some scoring production. Ron Artest probably hasn't hit his stride yet but we're entering the part of the calendar when he is at his best, making everyone's life miserable and making heady hustle plays. Marion was good for 10.5 points and 6.2 rebounds in round one; Artest put up 11.8 and 5.0. Artest could very well end up winning out. For now, call this one a push.
PF: Just as Dirk Nowitzki vs. LaMarcus Aldridge was one of the must-watch first round matchups, so too will be Nowitzki vs. Pau Gasol. There's no question about who played better in round one. Nowitzki carried the Mavericks by averaging 27.3 points and 7.8 rebounds per game while Gasol once again warded off criticism for his passive play. If there's a silver lining for Gasol, it's that he will have plenty of help from Artest, Lamar Odom and company in defending Nowitzki. Still, he will have his hands full. Advantage: Mavericks.
C: The Lakers should win the pivot. Andrew Bynum was dominant against the Hornets, putting up 15.2 points and 10.3 rebounds while also blocking nearly two shots per game. Tyson Chandler isn't asked to score much, but he did rebound effectively against the Blazers, including a monster 20-rebound performance to help secure a Game 5 victory. The key issue, as mentioned above, will be his ability to stay out of foul trouble. His back-up, Brendan Haywood, doesn't stand a chance in this series. Advantage: Lakers.
Bench: This match-up pits this year's Sixth Man of the Year, Lamar Odom, versus a perennial candidate for that award, in Terry. Both present defensive problems for their opponents but Odom is a particularly tough cover for the Mavericks. The burden will likely fall to Marion, who will have to wrestle with Artest and then track Odom all over the court. That's a lot for one man to bear. Dallas' reserves don't stand much of a chance of helping ease that load, either. The Lakers will continue to use Shannon Brown and Steve Blake to make life easier for Derek Fisher while the return of Beaubois could provide a much-needed athleticism and energy spark off of Dallas' bench, as J.J. Barea didn't get much done in round one. Terry aside, L.A.'s backcourt is a touch more proven and cohesive. Overall, slight advantage: Lakers.
Coach: Mavericks coach Rick Carlisle did an excellent job of making the necessary adjustments in round one but he had the deeper and more talented team on both sides of the ball. He will be on the other side of that equation in round two and that will make his life, and the adjustments, significantly more difficult. Meanwhile, Lakers coach Phil Jackson still has more rings than anyone can count and was able to pull L.A. through some stretches of sporadic play to knock off a feisty Hornets team. He's still got it. Advantage: Lakers.
V. Conclusion
The Lakers aren't playing perfectly but, in sum, are simply a cut above the Mavericks from a talent perspective. They've got multiple options to throw at Nowitzki, no other clear match-up disadvantages, multiple stars in Bryant and Odom that should be able to operate with impunity and a third in Bynum who could swing the series if he continues to show the unstoppable size/skill combination that he flashed in round one. The Mavericks are confident, capable of getting hot and smartly get to the line late in games, especially at home. Ultimately, that probably won't be enough. Prediction: Lakers in 6.