Posted by Royce Young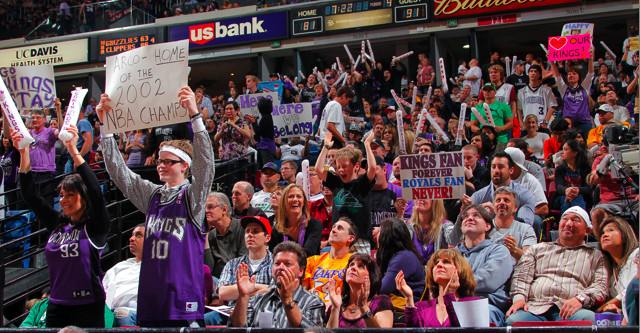 There they stayed. The
Kings
aren't moving. At least for now.
According to numerous outlets, the Kings have ended their relocation bid to Anaheim and will remain in Sacramento, at least for another year.
The Maloofs, in a press release said:
Out of respect to Kings fans and the regional business community, we have decided to remain in Sacramento for the 2011-12 season. The fans' spirit and energy, specifically our season ticket holders, has been remarkable and we are truly thankful for their loyalty. We also are greatly appreciative of the support from our corporate sponsors as well as other local businesses that have come forward in recent weeks.

Additionally, we would like to take this opportunity to send a heartfelt thank you to the loyal and hardworking team members within our organization. From the game night staff to the front office, coaches, and players, we are grateful for their professionalism and devotion.

Also, the release thanked Sacramento mayor Kevin Johnson but also mentioned the ominous future for the city as well. "However, if an arena plan cannot be finalized in a timely fashion, the NBA¹s relocation committee has assured Maloof Sports and Entertainment that it will support an application to move the franchise to another market starting in 2012-13."
Buzzkill.
It really shouldn't come as a huge surprise as the NBA had recommended the team stay in Sacramento to go along with about 50 other signs and reasons the Kings should remain in town. Of course that didn't stop the Maloofs from pursuing every available option to continue the relocation process. But in the end, without the league's support and a sketchy plan, they decided to withdraw.
Good move. Er, I guess good non-move. You know what I mean.
Still, at the heart of this is the arena. While the Kings bought themselves another year in Sacramento, the franchise needs to move ground (literally or at the least figuratively) on a new arena otherwise we'll be watching this same scenario unfold next year. The interesting part then will be if Sacramento still doesn't make progress and the team seeks relocation, is Anaheim the choice? Something tells me no because of all the blowback there was from that.
(This would be a pretty good time to start building your own new arena, Seattle. That is, if you want a new team.)
I don't know enough about the current situation in Sacremento to say whether or not a new arena is likely, but obviously that's the issue going forward. Get that built and the team is there for at least another 20 years. Don't, and this whole thing will come back and the NBA might not be willing to step in next time. The threat of relocation is real and the Maloofs are serious. No business owner wants to lose money. That's not the point of owning a business. So if things don't progress, they'll look at their options.