Miami Heat forward Chris Bosh is suing the mother of his child over her appearance on a reality TV show. Posted by Ben Golliver.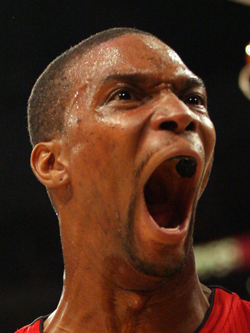 On Tuesday night, Miami Heat forward Chris Bosh will do battle with
Kevin Garnett
.
HollywoodReporter.com reports
that Bosh began fighting a different battle on Monday, filing a lawsuit against the mother of his child, Allison Mathis, for "infringing his trademark and publicity rights" by appearing on VH1's popular reality television show,
Basketball Wives
.
Bosh is claiming that co-defendants Allison Mathis and producer Shed Media are commercially exploiting his likeness and trademark, and the complaint offers an amusing rationale on why Mathis' appearance doesn't constitute protected First Amendment expression against Bosh's purported intellectual property rights: "The use of Plaintiff's name by Defendants is primarily commercial and not communicative," says the lawsuit. "Further, the show, 'Basketball Wives,' is not transformative, but rather the use, depiction, or imitation of celebrity NBA basketball players, including Plaintiff, is the very sum and substance of the show."
Bosh claims his consent was required for use of his mark -- his name -- and that the reality show is likely to confuse the public into thinking he authorized or sponsored Basketball Wives.
I think pretty much everyone can agree that this show is an embarrassment. Being associated with this show is like being associated with a pig sty or chicken pox or something. It's just hideous, desperate, pointless and wrong. And no, I haven't watched a second of it.
But is it really illegal? That seems like a stretch. Unless the show is going out of its way to defame Bosh, it's difficult to believe a court should prevent Ms. Mathis from identifying herself as who she is, the mother of his child.
Everyone has regrets about past relationships and it's often a good idea to forget about them and move on. But Bosh's previous actions have consequences and filing a lawsuit to smother those consequences just feels like a bit too much.