Celtics Hall of Fame center Bill Russell will be honored with a statue in Boston. Posted by Ben Golliver.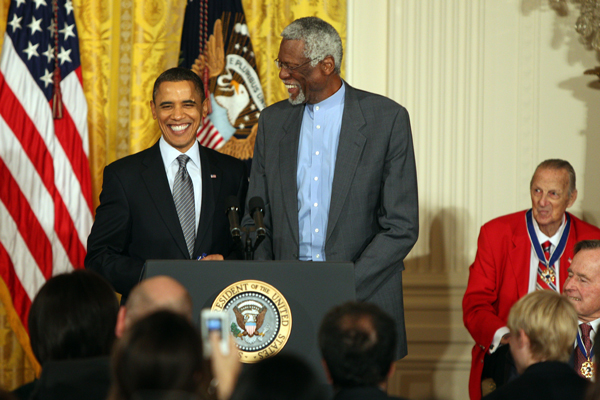 It's been quite the year of awards for legendary Boston Celtics center Bill Russell.
Back in February
, Russell was presented with the Presidential Medal of Freedom by Barack Obama. On Wednesday,
the Celtics announced
that Russell will be honored with a statue in his likeness in Boston.
The Boston Celtics Shamrock Foundation in partnership with the newly formed Bill Russell Legacy Committee announced today they will erect a statue of Bill Russell in the city of Boston designed by a local artist. In commemoration of Russell's accomplishments as the greatest champion in the history of professional sports, as a national leader in human rights and as a dedicated advocate for youth mentoring, the Bill Russell Legacy Project will also develop a Mentoring Grant program in Russell's name to ensure his passion is carried on by expanding the resources for mentoring programs in the city of Boston.
"I am uncomfortable with honors such as this but my years as Captain of the Boston Celtics were the proudest moments of my career," Boston Celtics Legend Bill Russell said. "Mayor Menino's Boston has proven to be a City that embraces the diverse contributions of all its people and neighborhoods. I am thankful to the Celtics and all the contributors for the effort to create such a wonderful Mentoring program."
Boston.com notes
that other sports legends have been honored with statues and that Obama was one of Russell's advocates.
Many of Boston's sports legends, including Bobby Orr, Ted Williams, Red Auerbach, Doug Flutie and Harry Agganis, all have statues.
"I hope that one day in the streets of Boston, children will look up at a statue built not only to Bill Russell the player, but Bill Russell the man," Obama said.
Russell is regarded as basketball's all-time greatest champion, winning 11 NBA titles during his playing career, a gold medal with Team USA and two NCAA titles at the University of San Francisco. In addition to his five MVP awards, he was named to the All-Star team 12 times.
A lasting monument to Russell in the city of Boston has been the subject of much talk among media and fans in recent months. Honestly, you could build an entire Easter Island full of Bill Russell statues and it still wouldn't fully commemorate his contributions to the game of basketball and to the Celtics.
Look for a
Shaquille O'Neal
statue to be erected next to the Russell statue in the year 20never.