Mike Conley, agent for Greg Oden, says the center needs to get healthy so he can play without fear of injury. Posted by Ben Golliver.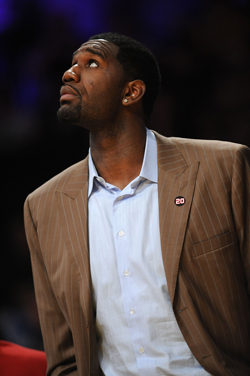 Oft-injured
Trail Blazers
center Greg Oden is set to become a restricted free agent this summer, and the City of Roses is abuzz about how much money Portland will have to shell out to retain his services in the likely event that he chooses to decline a one-year qualifying offer to test the free agent market.
Mike Conley, Oden's agent,
told the Indianapolis Star
that he expects interest to be high in his client and that he expects Oden to make a return to the court next season.
"I know that he'll play next year, and as long as he keeps his weight down, he'll get back to being the Greg we knew, being able to run and jump and everything. The thing is keeping him healthy and give him the confidence to play without being scared."
"I think there will be offer sheets on him and he'll have an opportunity to earn more at Portland, or if Portland doesn't want to match it, he can play somewhere else. I know there will be some teams interested," Conley said.
Oden did not appear in a game during the 2010-2011 NBA season as he was rehabilitating from knee surgery before suffering another injury that forced him to undergo microfracture surgery during the season. He's played in 82 games combined in four seasons and Blazers GM Rich Cho says the center is still "a way's away" from returning to basketball activities.
With veteran
Marcus Camby
the only real starting-quality option at center, the Blazers need a return to form from Oden in the worst way. That his agent openly admits the mental battle will follow Oden even after he returns to the court goes to show how long of a climb the center still has in front of him.
The good news is that he will be getting paid either way this summer. If there are no offer sheets with enough guaranteed money for his liking, he can always return on a one-year qualifying offer, which would pay him $8.8 million and allow him to become an unrestricted free agent in the summer of 2012. Life could be worse for Oden, even if it probably doesn't feel that way after being away from the court for so long.