The Minnesota Timberwolves are visiting point guard Ricky Rubio in Spain in an attempt to bring him to the NBA. Posted by Ben Golliver.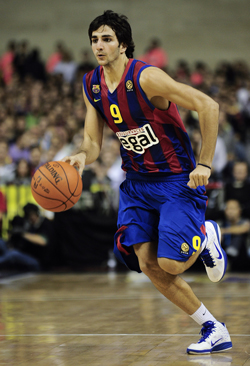 It's the NBA's version of Groundhog Day: Every six weeks or so, a report out of Minnesota indicates that the Timberwolves are somehow progressing towards bringing Spanish point guard Ricky Rubio to the NBA.
The most recent edition,
courtesy of the Star-Tribune
, notes that Timberwolves brass, including president David Kahn and assistant GM Tony Ronzone, are in Europe to meet with Rubio in an attempt to get something done in the short term.
A Timberwolves contingent led by David Kahn are spending the next week in Spain for this weekend's Euroleague Final Four and to continue work they intend will get Ricky Rubio signed to a NBA contract within a month.
But his team still has Spanish league play left during a European season that, like the NBA, never seems to end. That fact could complicate the timing of a completed deal because Rubio must exercise a $1 million-plus buyout with his Barcelona team and because Rubio and his family don't want it to appear as if he already has a foot out the door to the NBA before his team's season concludes.
The paper goes on to note that if Rubio signs before May 31 he will qualify under the current rookie scale contract set-up rather than have an uncertain contract status in whatever faces rookies in a renegotiated Collective Bargaining Agreement.
But
ProBasketballTalk.com notes
that the money situation really isn't all that favorable in Minnesota and Rubio needn't be in a huge rush to get things done.
The NBA rookie scale is already very restrictive — Rubio would take more than a 50 percent pay cut to leave Barcelona for the Wolves right now, and he would be locked into that rookie deal for at least three and more likely five years. The new CBA may make the rookie scale a little smaller, but the owners are far more concerned about long-term free agent deals and restricting those than the rookie scale. The owners love the rookie scale.
If Rubio waits a third year after his draft (one more season), he is no longer subject to the NBA rookie scale. This is what Tiago Splitter did to the Spurs — he waited it out then came over on his own financial terms.
So if the money isn't a deal-maker, then it's on the Timberwolves to prove to Rubio that they are a more desirable place to ply his basketball trade than Barcelona, one of Europe's most well-regarded clubs in one of the world's most beautiful cities playing in front of countrymen, friends and family.
The Timberwolves, meanwhile, finished with the NBA's worst record even though they won two more games than last season! The roster has more holes than a slice of swiss cheese inside a moon crater, their coach is permanently on the hot seat and, should he be unable to deliver Rubio for next season, Kahn will be too.
Generally whenever a European star decides to come to the NBA the first words out of his mouth are: "The time was right." It's difficult to imagine how next season, with the lockout and Minnesota's outlook, could be the right time for Rubio.