The Los Angeles Lakers face a do-or-die Game 3 as they trail the Dallas Mavericks 2-0 in the Western Conference semifinals. Posted by Ben Golliver.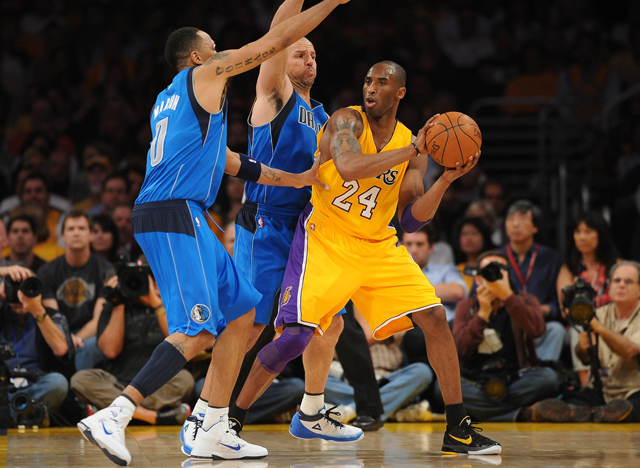 DALLAS LEADS 2-0
One Big Thing:
Despite being in an 0-2 hole heading into Dallas, the Lakers reportedly projected an air of confidence and control on Thursday.
The Los Angeles Times even reported
that Lakers coach Phil Jackson guaranteed his team wouldn't be swept by the Mavericks, saying that his team hasn't played its final game in Staples Center this year. Is this the air of a champion or false bravado? Never has the situation been in more doubt thanks to back-to-back ugly finishes from L.A.. In Game 1, it was an offensive meltdown with the Lakers making just two field goals in the last five minutes. In Game 2, a lack of emotional composure as
Ron Artest
foolishly got himself ejected and suspended for a cheap shot on J.J. Barea. Can the Lakers hold things together for 48 minutes in the biggest game of their season?
The X-Factor:
By virtue of
his comments about L.A.'s "trust issues"
, Lakers center
Andrew Bynum
has cast himself as the X-Factor in Game 3. Will the Lakers go outside their usual offensive gameplan to forcefeed him? Probably not. But if he doesn't deliver with the touches he does get and on the defensive end, he's set himself up, fairly or not, to take some of the blame that's been heaped upon
Pau Gasol
. Critics hate it when players point fingers, especially if they haven't delivered often enough to have an established level of credibility. That's where Bynum sits, and anything short of a monster night will lead to plenty of fingers being pointed back at him.
The Adjustment:
Without Artest, the Lakers are
expected to move
Shannong Brown into a starting role, opting to keep
Lamar Odom
in his Sixth Man role so that the rotations stay as similar as possible. The Mavericks may look to get
Shawn Marion
going early because of Artest's absence, as well as the impact it will have on L.A.'s depth at the small forward position. The Lakers will likely lean more heavily on Odom, who hasn't been an impact scorer through the first two games of the series. He will likely draw extra defensive possessions on Mavericks forward
Dirk Nowitzki
as well.
Update
: Odom
said on Friday morning
that he expects to start but Jackson would not confirm the move. It's the third different starting lineup discussed in the last 24 hours. So who knows.

The Sticking Point:
Deadspin.com broke down
just how amazing Dirk Nowitzki has been shooting the ball. He's been a sight to behold, and essentially unstoppable to this point. The scariest problem for the Lakers? Nowitzki has yet to get to the free throw line in volume so far this series. Against Portland in round one, Nowitzki averaged 13.7 free throw attempts at home. Will there be a similar parade to the stripe in Game 3? If so, that would make it even more difficult for L.A. to keep up with Dallas's offensive efficiency juggernaut.
CBSSports.com Video Preview:
Here's a video preview of Lakers-Mavericks Game 3 with Adam Aizer, Greg Urbano and yours truly.