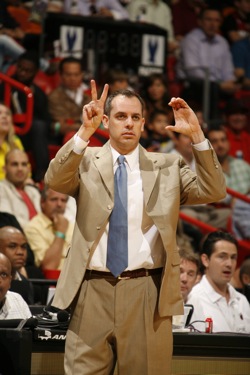 Posted by Royce Young
Maybe it's just a threat or maybe it's a sign, but
Pacers
interim coach Frank Vogel interviewed for the Houston
Rockets
head coaching position,
according to the Indianpolis Star.
The Pacers would be making a big mistake letting Vogel walk as he proved down the stretch of the regular season and also during Indiana's five-game opening round loss to the
Bulls
that he works well with the team. He seemed to really have their ear, had them playing hard and appears to be a rising young coach.
No surprise the Rockets interviewed him though. Basically if you're affiliated with basketball and available, you've interviewed with the Rockets. Vogel worked with Rockets general manager Daryl Morey in Boston.
Vogel said during his season-ending press conference last week that he would like to return as Pacers coach. It's just a matter if the feeling is mutual.
I'm curious though as to if it's just a little nudge from Vogel to the Pacers. The front office is a bit up in the air with Larry Bird's future not entirely certain. So obviously the organization wants to get things straightened from the top down before locking up Vogel. Something tells me that Vogel's future is with the Pacers though.
Bird will likely stay with the franchise and ownership really seemed to be pleased with the progress by the team.
Vogel led the Pacers to a 20-18 record and to the playoffs for the first time since 2006 after taking over for Jim O'Brien who was fired in late January.