Miami Heat forward Chris Bosh is OK with being a Big 3 outsider. Posted by Ben Golliver.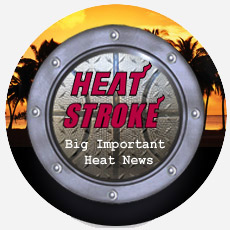 File this news away for the post-lockout NBA. The
Sun-Sentinel reports
that Miami Heat forward Chris Bosh has admitted that he's already an outsider on the team's Big 3. Apparently
LeBron James
and
Dwyane Wade
have grown inseparable and he's not a part of the bromance. The good news is that he's OK with it and doesn't appear to be harboring any resentment or jealousy.
"For me, I'm not afraid to dance to the beat of my own drum," Bosh said. "With me, I've always just been different," Bosh said. "I've never tried to fit in. I'm one of the fellas, great. I get along with everybody, great. But if I'm going to read my book, I'm going to read my book and this is what I'm doing."
When James and Wade are on their iPods listening to hip-hop lyrics in the locker room during pre-game. A few feet away, Bosh is plugging his headphones into his iPad, usually reading a novel or a book that teaches mental toughness.
"It just helps me focus, because for one, I just like to read," Bosh said. "There's a lot of good information in books … You have to get your substance from another source sometimes."
An off-the-court rift in the Big 3 is pretty much meaningless right now, as the Heat are playing their best, smoothest, team-oriented ball of the season. They're on quite the roll and chemistry issues that bubbled up earlier this season seemed to have been tamped down. That success has come at the expense of Bosh's stats in the second round -- he's scoring just 12 points per game against Boston so far -- but he's continued to work on the glass and had a solid series against the Sixers.
But this fissure isn't about this year, it's all about the future. It's not clear whether the Heat will be able to retain Wade, James and Bosh under the rules of a new Collective Bargaining Agreement which the owners hope will totally revamp player salaries. Will there be room on Miami's books for three near-max players? If the mid-level exception no longer exists, will the Heat consider dumping one of the trio to bring in multiple, capable bodies to round out a rotation?
Those are open questions and we need not jump to conclusions. But it might behoove Bosh to buddy up to the James/Wade pair a bit more, at least until the lockout is over. Otherwise, he might be reading his books while playing for a team that's under the cap with room to absorb his contract.