Lakers guard Kobe Bryant says he thinks Los Angeles can come back from a 3-0 series deficit to the Dallas Mavericks. Posted by Ben Golliver.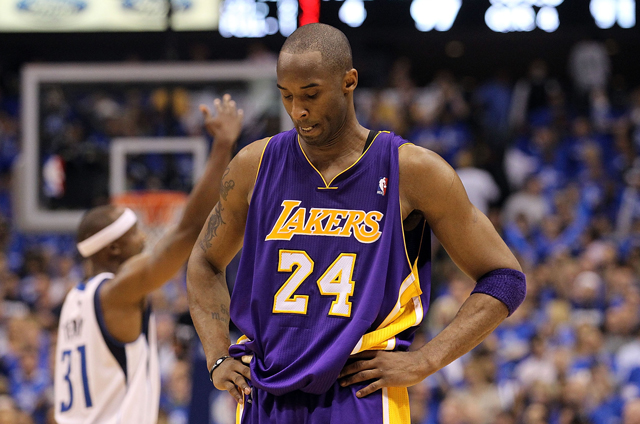 The Los Angeles Lakers' season could end as soon as Sunday night. Down 3-0 to the Dallas Mavericks with Game 4 in American Airlines Center, the Lakers will look to keep hople alive their season after three straight games featuring fourth quarter meltdowns. There has been plenty of blame to go around,
While no NBA team has ever come back from a 3-0 deficit, ESPNLA.com reports that Bryant not only still has hope, he's
predicting a series victory
.
"I don't know, I might be sick in the head or crazy or thrown off or something like that because I still think we're going to win this series," Bryant said after totaling 17 points and six assists in Game 3. "I might be nuts. ... Let's win on Sunday, go back home and see if they can win in L.A."
We shouldn't expect less from Bryant, one of the league's most confident and decorated players. He isn't going to fold in the face of adversity, at least not publicly. With Games 4 and 6 still to be played in Dallas, however, L.A. faces an extremely tall order. It's better to go down with your head up, I suppose.
What happens in the very likely event that the Lakers aren't able to make good on Bryant's prediction? Ken Berger of CBSSports.com
explores that subject
, saying that trades, possibly including some big names, are likely in L.A.'s future.
The New York Times notes
that Lakers legend
Magic
Johnson agrees with that assessment.
"If the Lakers lose this game, you're going to have to blow it up," Magic Johnson, the former Lakers great, said on ESPN. "This team has been together too long. It's time for major changes for the Lakers."