The Hawks don't really have to win Game 4 to be proud of their season, it's all gravy from here, really. But if they want to make this series go longer, they're going to have to make some serious changes.
Posted by Matt Moore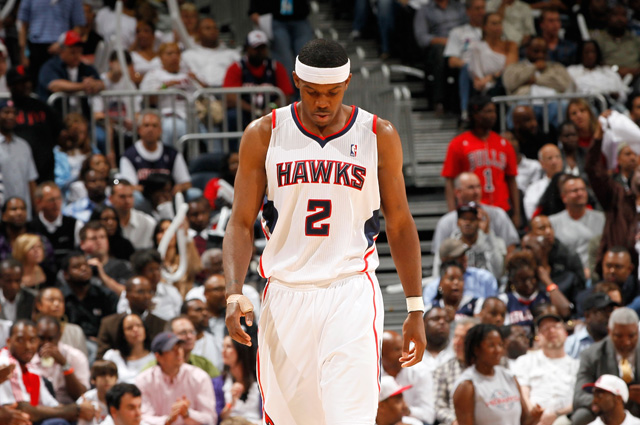 One Big Thing: The Atlanta Hawks aren't really on the hook for Gaem 4. They stole a game in Chicago, made a good effort in Game 2, and then Game 3 really did show that they're just outclassed. The Hawks will continue to face derision from media and fans, but the reality is that they did make progress this year. They won a game in the second round. Granted, based on this pattern of improvement, they're scheduled to win the title in 2088, but still. The Hawks can be blamed for their isolation offense, for their allowance of huge performances from stars, for
Josh Smith
shooting 3-pointers. But they can't be blamed for the
Bulls
being better, which they are. How the Hawks choose to respond in Game 4 will say a lot about them. Again, they can fold, and you shouldn't think any worse of them. The Bulls are a much better team. But if the Hawks come out and play with fire, once again pushing the top team in the East and forcing this series to go at least some distance, they'll show that at least they're not willing to go quietly.
The X-Factor: It's tempting to throw any number of Hawks in here: Josh Smith,
Jamal Crawford
,
Jeff Teague
, but since we know we can't count on them (Teague is the best bet, can you believe that?), let's go with a Bull:
C.J. Watson
. As if
Derrick Rose
's onslaught wasn't enough, Watson came off the bench in Game 3 with 8 points and got to the line twice in just ten minutes. The Hawks have shown they can survive big performances from stars (
Dwight Howard
). But if the bench is going to keep up the production, they're must going to drown defensively.
The Adjustment: Surely, Josh Smith will start to hear the boos and recognize that you can't, you just can't keep taking those long-range jumpers. The boos from his home crowd (which will undeniably be a little less homey in Game 4)! Smith keeps taking those shots, despite the opportunity to take
Carlos Boozer
off the dribble and how well the Hawks play when he becomes aggressive. At this point, the best bet for the Hawks is classical conditioning using the Hawks crowd as a reward system. Maybe they should set up a bell system to tell him when to drive. Pavlov's Dog doesn't seem like a crazy approach if it gets the job done. Smith has gutted his own offense with his decision making in the playoffs.
The Sticking Point: Jeff Teague actually played really well. There was just no stopping Derrick Rose, especially with his mid-range jumper falling. If the same is in place in Game 4, the Hawks have no shot. It sounds simple, because it is. If Rose's mid-range jumper is falling, the Hawks are done and might as well not even make the flight to Chicago for Game 5. But if it's not, and they start attacking the basket themselves, Atlanta has an opportunity to get this series further down the road.