The Philadelphia 76ers will reportedly shop forward Andre Iguodala this summer. Posted by Ben Golliver.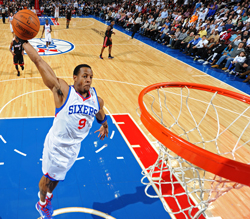 It feels like forever ago, but back in the early winter the Philadelphia 76ers looked headed for another trip to the NBA Draft Lottery.
Evan Turner
was a non-factor, Andre Iguodala looked a like very expensive piece for such an unsuccessful team and
Jrue Holiday
hadn't yet blossomed into a potential star.
Then, Philly went on a strong second-half run, finishing as the Eastern Conference's No. 6 seed and making the Miami
Heat
work before bowing out of the playoffs. That success has given Philadelphia an identity built around a young core featuring Holiday, Turner,
Thaddeus Young
and others. A promising future seems to be in store.
Only one problem:
The Philadelphia Inquirer reports
that Iguodala is lukewarm on sticking with the club.
An answer to a straightforward question is simple, but Iguodala's answer to the question, "Do you want to play for the 76ers next year?" was anything but.
Here was his first attempt: "I expect to be back in the NBA," Iguodala said after the team's season-ending loss to the Miami Heat in the NBA playoffs. "It's always been a dream of mine to play ball. This has been a great ride so far, not just with the Sixers, just playing basketball in general. I'm really looking forward to getting some rest this summer, just letting my body recuperate and get back to 100 percent, and I'm really looking forward to next year being my best year in the league."
Meanwhile, the Inquirer reports that the team is considering shopping him this summer.
Iguodala has not asked Sixers management for a trade, but the team will be looking to trade him this summer.
Here's the breakdown of how NBA general managers feel about the remaining $56 million on Iguodala's contract. Approximately half of the GMs believe he's paid appropriately, perhaps slightly overpaid but nothing that would prevent them from making a deal. And half believe he's overpaid and wouldn't trade value for him.
Iguodala, mostly because of his contract, was the subject of a bunch of pre-deadline trade talk. Hanging on to him as the team's fortunes increased this season made sense, but he's on the books for $13.5 million next season with two additional, escalating years after that.
Iguodala's reluctance to commit publicly to Philly likely stems from a perception that the team has a ceiling as currently constructed. Surely he is ready to play for a true contender at this point in his career and the Sixers aren't yet that and don't figure to get there in the immediate short-term.
For the Sixers, Iguodala represents roughly a quarter of their salary cap figure for next season and he missed 15 games last year with an assortment of injuries this season. It makes all the sense in the world to shop him, especially if it involves getting a slightly younger wing talent or a proven big man.
Still, finding a deal is no guarantee. Given Iguodala's status as a second-tier star, the size and length of his contract, and his injuries, he's more difficult to move than you might think at first.