Boston Celtics coach Doc Rivers says Rajon Rondo and Delonte West will play in Game 4 following MRIs. Posted by Ben Golliver.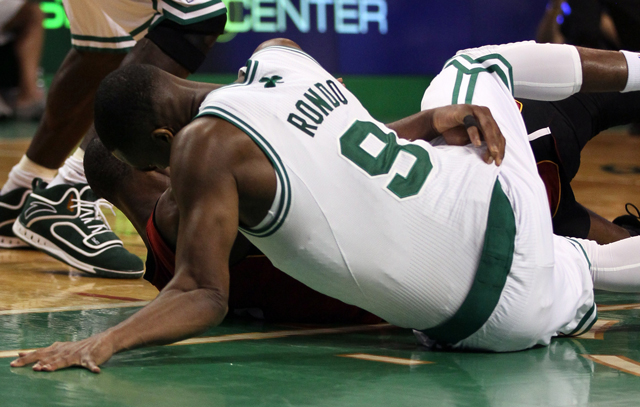 UPDATE:
Rondo was given an X-ray, MRI and CT scan and all results were negative. He's being officially listed as questionable for Game 4.
During Saturday's Game 3 against the Miami
Heat
, Boston Celtics guards Rajon Rondo and Delonte West both went down with injury. For Rondo, it was a gruesome
dislocated elbow
while West suffered a shoulder injury just before halftime.
Boston.com reports
that both players underwent MRIs and that Celtics coach Doc Rivers expects both to be available to play in Monday night's Game 4, although he expressed a bit of apprehension regarding Rondo.
"Right now we're going with they're all playing," said Rivers, who was including Shaquille O'Neal. "Hopefully we'll know something by the end of our film session. Obviously (Rondo's elbow) was far more painful today, a lot of swelling."
"If he can't help our team (Rondo won't play)," the coach said. "And if he can play, how well can he play and will he help or hurt our team? No. 1, we're not going to hurt the player and we're not going to do anything to hurt the team. It may not be until game time and the game until we find that out. Right now, that may be the case. I am optimstic about both, that they're going to play."
Here's video of Rondo's gruesome injury which occurred after he got tangled up with Miami Heat guard
Dwyane Wade
.
If both Rondo and West are unable to go, look for the Celtics to activate reserve point guard
Carlos Arroyo
, who played for the Heat earlier this season.
For more on Rondo's heroic return,
CBSSports.com's Ken Berger has you covered
.