Pau Gasol loses fiance, has tension with Lakers, is swept from playoffs. Other than that, things aren't bad for the 7-foot Spaniard.
Posted by Matt Moore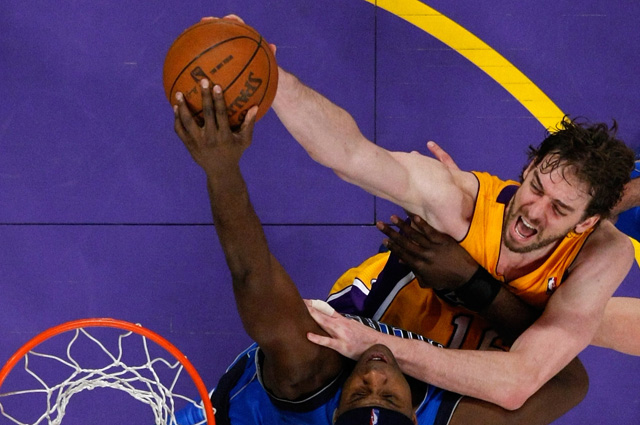 Let's take a look at Pau Gasol's week:
Dumped by his long-time girlfriend: check.
Challenged and pushed physically by Phil Jackson, who notoriously does not get up in player's faces or ever touch them during games: check.
Dominated against Euro 7-footer, exposing him as an inferior to Dirk Nowitzki: check.
Swept from playoffs in attempt for three-peat, and failed to send arguably the greatest coach in NBA history out on a high note: check.
Yeah, that's a pretty bad week.
Gasol was reported to be upset with
Kobe Bryant
over his wife's involvement in Gasol's girlfriend's decision to break up with him earlier in the week. Gasol
admitted there was some tension
in the locker room,
but also denied Bryant's involvement
. It's not really worth pursuing, since it's none of our business and it doesn't change the result. It's understandable that Gasol would be upset about something in his personal life like that, but in the biggest series of the year for the Lakers, they needed their big man, and he wasn't there. It's a rough patch of luck, but you have to fight through it if you want to be a champion, as cliche as that sounds.
Perhaps more important, though, is this point. Regardless of what was going on with Gasol, he still could have dominated had the
Mavericks
not played him so well. They sent effective doubles, brought help when he got to the corner, challenged his turnarounds enough to drive him too deep baseline, and stayed aggressive on the defensive boards to not allow those tip-ins. Pau Gasol has a terrible week, one that has changed Laker fans' perception of him despite his pivotal role in the Lakers' two championships, but it should be noted that it was a two way street. Gasol fell apart when the Lakers needed him most, and the Mavericks did what they had to in order to take away the Lakers' second best player.
If the last few weeks have been interesting for Gasol, the next few months could be even moreso.