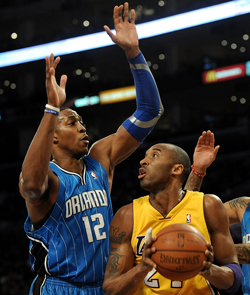 Posted by Royce Young
The NBA announced its All-Defense teams with Defensive Player of the Year
Dwight Howard
leading the way. The first team consisted of Howard,
Kevin Garnett
,
LeBron James
,
Rajon Rondo
and
Kobe Bryant
.
The second team is
Joakim Noah
,
Tony Allen
,
Chris Paul
,
Andre Iguodala
and
Tyson Chandler
.
Now two things right off the bat: Kobe is on the first team? Just another example of the odd affinity some media voters have for No. 24. He picked up an odd number of MVP votes (included a first-place vote) and was voted to the NBA's All-Defense first team. Kobe is a good defender, but this isn't 2006. He isn't near the stopper he once was.
The second is that
Dwyane Wade
wasn't even on the second team. Wade is known as maybe the best on-ball defender in the entire league and not only did Kobe get his first team spot, but Wade was relegated to honorable mention. That's just... messed up.
If you're curious, NBA coaches vote on the All-NBA teams. Which makes you wonder if they didn't pay attention, voted on hype/reputation or were just lazy. Probably a little of all the above.
One thing I'll ask: Is the second team actually
better
than the first? Allen and Iguodala are two unbelievable wing defenders. Chandler had an amazingly underrated defensive year. Chris Paul is one of the craftiest, most pesky defenders in the league and well, I guess you could say the same of Noah. The first team has Howard who is the league's best defensive presence, but I'd say Paul is better than Rondo, Noah comparable to Garnett, Allen better than Bryant and Iguodala on the same level as LeBron. Interesting thought.
Some other notes:
Derrick Rose picked up four first team votes and had the most votes of all the honorable mention guys. That means he had more votes than Wade, Luol Deng and Gerald Wallace. That is just, well, stupid.
Grant Hill received four first-team votes and while I wouldn't necessarily argue he should replace someone on the first or second team, Hill had a tremendous defensive season at 38 years old. Kevin Durant said that Hill guarded him as well as anyone else this year.
One of the league's most reknowned defenders, Ron Artest picked up only one first-team vote.
The league's leading total shot blocker, Serge Ibaka, received one first-team vote.