Utah Jazz forward Andrei Kirilenko got a creepy new tattoo on his back. Posted by Ben Golliver.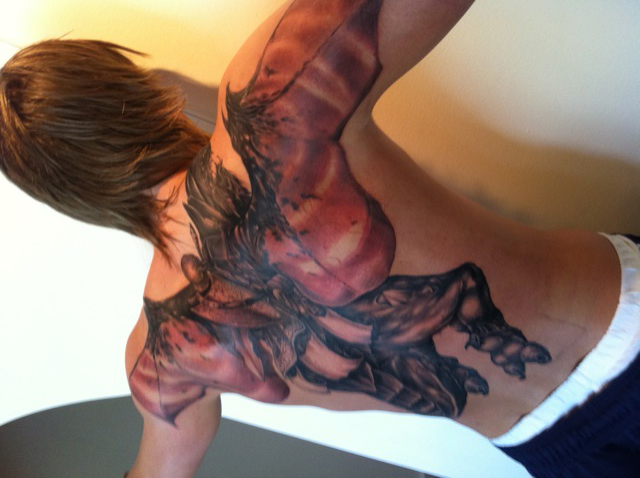 Tumultuous circumstances can lead to bad decisions. After decades of placid basketball life, the Utah Jazz underwent a pretty significant upheaval over the last six months, as longtime coach Jerry Sloan retired, franchise player
Deron Williams
was traded and the team missed the NBA playoffs for the first time since 2005-2006.
Still, all that drama and new-found free time is no excuse for doing what Jazz forward Andrei Kirilenko just did to his back. Yes, that picture above is Kirilenko getting some new ink. The pictures come via
@Vicback on Twitter
, who notes that the graphic was "finished in 12 hours."
The picture above actually isn't the finished product.
Click here
for that, which notes that the art "sits like a rock" on Kirilenko's back. Here's
another shot
for good measure.
As best I can tell, the image shows a knight with a shield and sword riding a gargoyle (?) with a tail like an alligator plus giant red, pumping hearts/lungs/wings (?). I guess "mythical" would be a polite and/or trendy way to describe this abomination.
The Salt Lake Tribune reports
that Kirilenko isn't concerned with your mocking of his new artwork.
Yes, Kirilenko got a super-intense tattoo on his back. Jokingly said he's 30 — he can do what he wants. His kids dig it. So does he.
Sorry, Andrei, your kids are probably just being nice. Or they're terrified.