Orlando Magic center Dwight Howard criticizes his local newspaper for its coverage of his future with the team. Posted by Ben Golliver.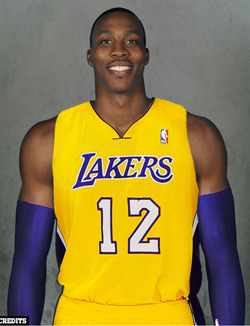 The Los Angeles
Lakers
bombed out of the playoffs, the Orlando Magic bombed out of the playoffs and Dwight Howard hasn't yet committed to a long-term contract extension, so it doesn't take a rocket scientist to think up a trade scenario between the two teams that centers around the All-Star center. Back in the day,
Shaquille O'Neal
went from Disneyworld to Disneyland and many assume Howard will do the same thing.
No one has been more aggressive in tracking that potential move than the
Orlando Sentinel
, who
created a website application
that allowed users to dress up Howard in the jerseys of different teams, including the Lakers. (An image from the application is shown to the right.)
On Monday night, Howard
took to Twitter
to criticize the paper for its coverage of his future (all sics are his).
"Y does it seem like the writers of Orlando sentinel are tryna push me out of Orlando with dumb articles. It's annoying. Can I enjoy my summer and get ready for next season in Orlando. Pls. Same thing u guys did to Shaq. Smh"
In
a series of follow-up tweets
, Howard clarified that he's not blaming the media.
"I'm not blaming the media. I'm saying stop with the dumb articles. They don't make be decision of mine. I jus don't want Orlando fans to believe them. Cuz they don't know. I love my city"
Assessing the
Sentinel's
Magic page on Monday night, you could read
a column calling on Howard
to inform the team of his future plans,
a story
about L.A.'s pursuit of Howard,
a story that led
with discussion of the Howard-to-Lakers talk,
video of Howard
describing the state of his contract negotiations with the Magic and
a poll for fans to vote
whether they would trade Howard and guard
Gilbert Arenas
to the Lakers for
Pau Gasol
,
Lamar Odom
and
Steve Blake
.
There's probably more, but you get the point.
No one -- especially not Howard -- should be surprised by the volume of coverage of his future. It's far and away the dominant storyline concerning the franchise from now until the second he is signed to an extension or traded. Griping will get him absolutely nowhere. Newsflash Superman, they're just getting started.
Ultimately, the paper's reporters are really just doing their jobs: feeding an insatiable beast. Well, except for that jersey application. That was kind of a low blow.