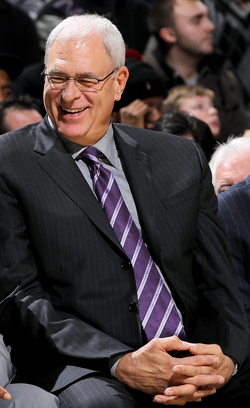 Posted by Royce Young
It really was only a matter of time. I'm honestly surprised it even took this long to happen.
Phil Jackson announced his eventual retirement months ago, but after the
Lakers
sudden sweep at the hands of the Mavs, Jackson's coaching career was over. He didn't necessarily emphatically say he was done, but did make it a point to say he's happy with his decision and indicated he's done for good.
"All my hopes and aspirations are this is the final game I'll coach. This has been a wonderful run," Jackson said in his final press conference.
But. Always but.
According to the New York Post,
Jackson would consider a return to coaching if "the right situation presented itself." Naturally, everyone immediately focused on the
Knicks
as a potential destination for Jackson. In 2005, Jackson actually interviewed for the Knicks position but passed, re-taking the Lakers job he had just left instead.
Current New York coach Mike D'Antoni is under contract through next season but most think unless the Knicks seriously contend, he could be on a very, very hot seat.
Most feel Jackson's health is at the heart of his retirment, but the report disagrees.
According to a league source, health likely won't prevent the 65-year-old Jackson from making a comeback in 2012-13 after taking a season off, though he has entertained the idea in the past of having a co-coach to make things easier.

The source said Jackson's hips are no longer an issue and he is considering knee-replacement surgery and a weight-loss program this summer to alleviate problems with his knees.

"Phil's going to have to find a way to keep himself occupied and fulfilled because Jeanie [Buss, Jackson's girlfriend] is not retiring," the league source said.
Jackson is very good friends with Bill Bradley, who is closely connected to the Knicks and Jackson played the majority of his 13-year NBA career with the Knicks as a fan favorite. He was part of the Knicks' two NBA championships.
With the way the Lakers fizzled out and the excitement building in New York, I understand the speculation. It's inevitable. Most have a hard time coming to grips with Jackson's last game being the debacle that was Game 4 against the
Mavericks
. He's an 11-time NBA champion, the greatest coaching the sport and maybe the greatest anywhere, ever. He's going to do what he wants but still that's not going to stop everyone from assuming something else.