The Miami Heat get their first chance to close out the Boston Celtics in Game 5 on Wednesday night. Posted by Ben Golliver.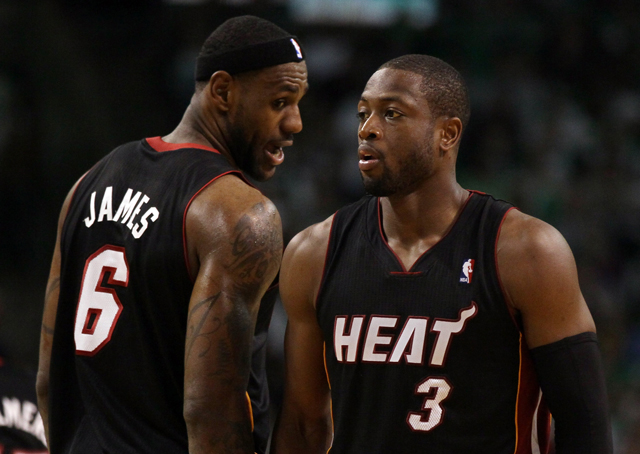 One Big Thing:
Destiny? Our collective denial could end Wednesday night. For months, we've been assuming, hoping and praying that the Miami Heat -- the new-look superteam featuring
LeBron James
,
Dwyane Wade
and
Chris Bosh
-- wouldn't be able to pull this thing off, at least not immediately. They have no bench. Coach Erik Spoelstra isn't ready for the challenge. Too many injuries. Bosh was the wrong third wheel selection. Three star players can't overcome a team of five good players. Well, to this point, despite some ups and downs that we've catalogued in minute detail, we've been wrong. It's so painful to write that the keyboard is oozing blood.
The Heat have their first shot to get over the Boston Celtics hump ... and they've got a very, very good chance. At home. Momentum in their favor after an overtime victory in Boston.
Rajon Rondo
still limited by a dislocated elbow. Dominant home performances in Games 1 and 2 to turn to for motivation. The Celtics, one would think, won't bow out classlessly and disgracefully like the Los Angeles
Lakers
. But their clock is ticking loudly. The Heat seem poised for the next step.
The X-Factor:
Boston's stuck between a rock and a hard place. Rondo is limited.
Kevin Garnett
has been up and down.
Paul Pierce
had back-to-back big games (27 points each in Games 3 and 4) but he can't match LeBron James play-for-play with the way James is playing right now. The great equalizer for the Celtics could be the three-ball, and that means one man:
Ray Allen
. Allen has caught fire just once this series, going for 25 points in a Game 1 loss. Since then, he's been uncharacteristically off, shooting a combined 11-30 (36.7%) from the field, far below his 49.1% season average. Miami has had its offense clicking much better at home (100.5 points per game) in this series than on the road (89.5 points per game). Given their bench's struggles, Allen's deadeye deep shooting is the most logical way for Boston to keep up amid a South Beach scoring frenzy.
The Adjustment:
As expected, Spoelstra moved center
Joel Anthony
into the starting lineup for Game 4 and he was rewarded for that decision. While Anthony had just four points and four rebounds, he played 31 minutes and had two blocked shots. Both teams went smaller, ignoring
Zydrunas Ilgauskas
and
Shaquille O'Neal
, and that played to Miami's advantage in a big way because Miami's more athletic forwards -- James and Bosh -- were able to wreak some havoc. Miami dominated on the glass, 45 to 28, and scored 48 points in the paint to Boston's 32. James and Bosh combined for 26 of those rebounds.
Most importantly, Anthony helped the Heat avoid falling into big deficits in the first and third quarter, as had been happening when Ilgauskas started. The Heat did get behind 9-2 to open Game 4 but pulled back quickly to trail by just one point nine minutes into the game. Then, Miami actually went on a 13-4 run to start the third quarter. Anthony finished with a +/- of 0 which is a huge win for Miami, given that Ilgauskas finished with a -19 as the starter in the Game 3 loss.
The Sticking Point:
Where is the world is
Glen Davis
? Boston's reserve big man -- who has been an X-factor in the past, even if he's a bit of a goof -- has been non-existent in this series, averaging just 3.5 points and 2.5 rebounds in 19.3 minutes. Compare those figures to his season averages -- 12.2 points, 4.6 rebounds and 31.2 minutes -- and you realize the magnitude of the loss of production and playing time. It's not like Celtics coach Doc Rivers can't use him, either. The trust factor just isn't there right now. Davis has look out-of-sync, off-kilter and low on confidence and the intensity of this series, plus the lack of an obvious defensive match-up for him on the Heat side, has made shortening his minutes a fairly easy decision for Rivers. A big surprise performance from Big Baby in Game 5 would be a much needed life preserver for the Celtics.
CBSSports.com Video:
Here's CBSSports.com's Ken Berger with a video preview of Game 5 with Lauren Shehadi.